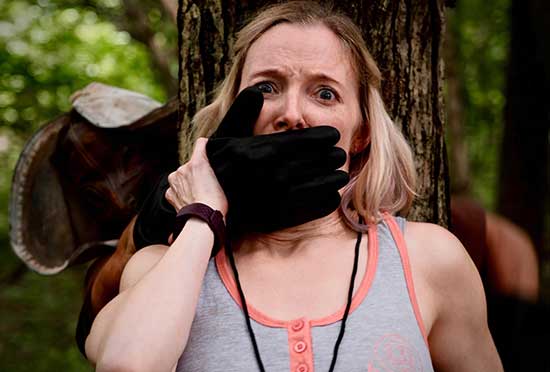 SRS CINEMA, HOME OF RARE UNDERGROUND MOVIES – TO RELEASE NKY FILMS' INDIE HORROR COMEDY 'ALL YOUR FRIENDS ARE DEAD'
On March 2nd, 2023, fans of limited run special edition horror movies, will have the opportunity to pre-order the indie horror comedy ALL YOUR FRIENDS ARE DEAD at SRS Cinema's website.
SYNOPSIS OF FILM, FEATURES & REVIEWS
After making the drastic decision to end his life, Matt Wilbee writes an email alerting his estranged high school friends that he will be saying goodbye for good at the camping grounds where they've gathered in the past. Matt's friends arrive just in time to save his life… but little do they know, a deranged masked killer is lurking in the woods, ready to pick them off one by one.
ALL YOUR FRIENDS ARE DEAD's SPFX/Makeup Team has worked on beloved genre films like Haunt (2019), Candy Corn (2019), NOTZILLA (2019), Terror Trips (2022), The Mutilator 2 (2022), as well as Netflix's Hillbilly Elegy (2020) and Northern Kentucky's famed haunt THE USS NIGHTMARE.
Extras
-MAKING OF FEATURETTE (includes deleted scenes and alternative footage)
-Director and Producers Commentary
-Trailer
-SRS Trailers
Joe Bob Briggs.com says, "Three stars." joebobbriggs.com/ben-nagy-reviews-all-your-friends-are-dead-campout-reunion-saves-a-life-loses-a-bunch-of-others/
Horror Obsessive.com says, "the film is better than a handful of recent studio releases and filled with much more heart." horrorobsessive.com/2022/07/14/a-high-school-reunion-hack-em-up-in-all-your-friends-are-dead/
Horror Movie Blog.com says, "this fun slasher flick that 100% delivers the kills." horrormovieblog.com/all-your-friends-are-dead/
This release is on a professionally burned and labeled BD-R's, and is limited to two weeks of pre-order only, with all sales ending for this movie on 3/16/22. Order now or risk missing out!
After this, SRS will be distributing the film for VOD and other streaming platforms.
For more information or to schedule an interview with Ricky Glore, please contact:
Website Link: www.SRScinema.com
Trailer Link: www.youtube.com/watch?v=ZnReW39tg1g&t=15s