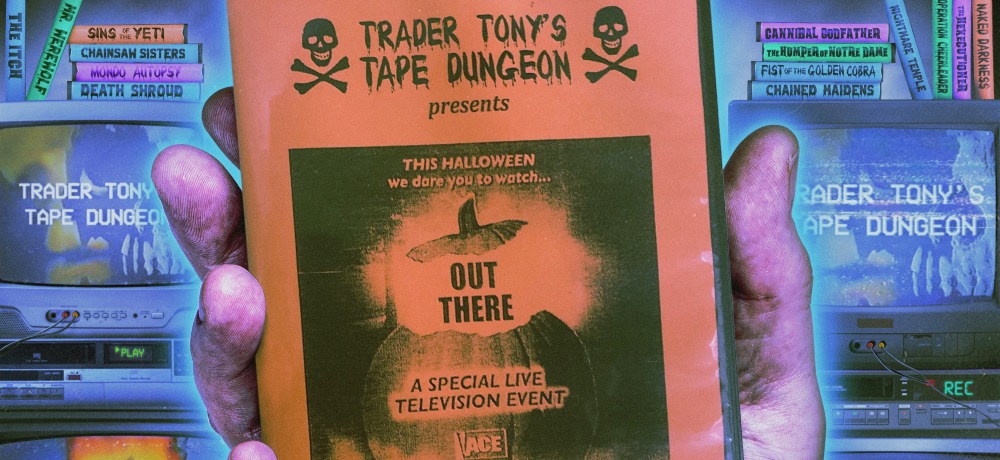 Since its release in 2013, the WNUF Halloween Special has become a festive favorite in many horror fans' spooky season movie marathons. Nearly a decade after the first film's release, a sequel to the beloved movie is coming to bring more tricks and treats to the Halloween season, and director Chris LaMartina has revealed the official title and poster for the anticipated sequel!
Titled Out There Halloween Mega Tape, the sequel to the WNUF Halloween Special will have its world premiere this Friday, July 29th, at Long Beach's Midsummer Scream, followed by an August 20th screening in Baltimore.
Chris LaMartina unveiled the official poster for Out There Halloween Mega Tape on Twitter, featuring a faux magazine ad for a film that was sold by Trader Tony's Tape Dungeon in the 1990s. The artwork for the poster was created by Marc Schoenbach.
Plot information for Out There Halloween Mega Tape is currently under wraps, but while the WNUF Halloween Special took place in 1987, it looks like the sequel will take viewers back to the '90s, and we'll be sure to keep Daily Dead readers updated as more details are divulged.
Poster courtesy of Chris LaMartina: