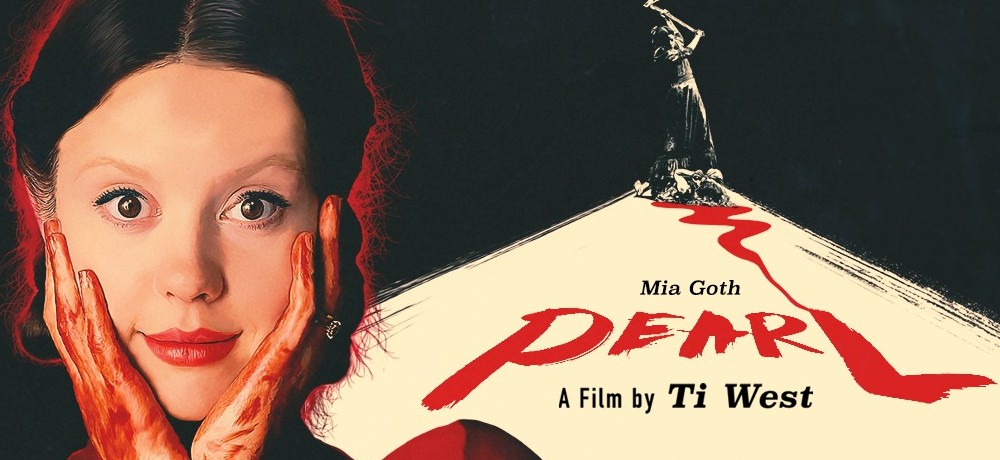 From the very first moments of Pearl, it's evident that filmmaker Ti West isn't looking to tread the same ground that he did with X, his previous effort. As the credits come up for his latest, it immediately whisks viewers back to that iconic time in Hollywood during the 1930s and '40s when filmmakers began embracing lavishly complete storytelling, the utilization of sound, technicolor as a means of heightening films with a stunning color palette, and other technological advancements that inspired moviegoers to head to their local theater on a weekly basis. Every frame of Pearl feels like it was made as a tribute to this phase of American cinema, but at the same time, it's also infused with a wickedly subversive undercurrent of malice and perversion, making for a fascinating viewing experience.   
In fact, if someone asked me the best way to summarize the approach of Pearl, the first thing that came to my mind is to liken the prequel to a scenario where someone like Frank Capra set out to make a twisted psychological horror movie during the 1930s and infused it with elements from both The Wizard of Oz and Gone With the Wind (there is maybe even a little Mary Poppins in here, too), which sounds like a rather ballsy approach. And while I'm not sure just how others will react to what West has created with Pearl, I absolutely fell head over heels for it. It's gloriously demented and Mia Goth proves here that she truly is one of the most fascinating performers working today.
In Pearl, we're reintroduced to the titular character during a time in her life prior to when we see her in X, but she is stuck living on the same farm from X with her parents while her husband is away fighting in the war. Pearl is longing to break free of the mundanity of her life and share her talents with the world. Pearl's mother (Tandi Wright) treats her daughter with total contempt and disdain, and she forces her to often tend to her invalid father (Matthew Sunderland). The stresses of her familial responsibilities, plus the fact that her husband is off fighting for his life and the freedom of so many others, weigh heavily upon young Pearl who just desperately wants to escape.
The mounting despair eating away at Pearl pushes her in some deliciously dark directions, especially after meeting a local projectionist (David Corenswet), who introduces her to an entirely new side of the entertainment industry via bootleg stag films. This discovery stokes the flames of Pearl's more lurid tendencies even more, and it's just the first step of her transformative journey that is at the center of Pearl. Once Pearl's dreams of stardom are officially thwarted, her frustrations begin to manifest in some rather malicious ways. And the hell that Goth's character unleashes during the film's unforgettable blood-soaked finale firmly establishes Pearl as one of the best and most fascinating female villains in all of modern horror. 
Being someone who loves both X and Pearl for very different reasons, I can understand if fans of the first film might not completely gel with West's approach for this prequel, as it is a huge departure from his gritty '70s throwback stylings there. But I wasn't looking for more of the same, and to see someone craft a harrowing psychologically-driven horror movie using approaches from this exemplary cinematic era felt so completely refreshing and audacious that I couldn't help but be completely smitten by what West created. It just feels so wondrously unique in a time where many films that are connected often try to deliver up more of the same because, as the adage goes, "If it ain't broke, don't fix it." 
But that's not West. He's a storyteller who has always mixed things up with every single one of his films, and he's established himself as someone who never feels like he's working from this singular vision or voice as a director. It's evident that he deeply cares and has a great affection for the history of cinema, and to create a horror movie that pushes boundaries like this one does, but craft this experience in a way that feels wholly authentic to Hollywood filmmaking circa the 1930s and '40s, is just an astounding feat to behold.
Goth, who is just as mesmerizing here as she was in X, was involved with the Pearl script, and having her perspective incorporated so directly into the story adds so much where you really get a sense of the frustrations that women who dare to dream bigger than their circumstances often face throughout their lives. So, regardless of Pearl's homicidal tendencies, she's still a relatable character nonetheless. She believes in herself. She wants to be seen. She wants to become the star that she knows that she is. And she doesn't want to be beholden to taking care of a family that only sees her as a caregiver and nothing else anymore. So when Goth's character hits her breaking point, that's when Pearl shifts into overdrive, and things go off the rails in the most wickedly wonderful of ways.
As someone who has been such a huge fan of Goth's work over the last several years, for as great as she is in X, taking on dual roles, I think Pearl pushes her in some fascinating new directions that made me genuinely excited. She's absolutely astonishing in Pearl, where she's the wonderfully bewildering mix of innocence and unadulterated calamity, with a splash of chaos thrown in just to really give all the other characters in this story a run for their money. There's a scene very late in Pearl where Goth delivers what might be the best monologue in horror this side of Toni Collette in Hereditary, and I don't even know if I blinked or even took a breath during that entire sequence – she just drew me into that moment so damn hard that it was impossible to think about anything else.
From a technical perspective, there's a lot to love when it comes to the craft on display. DP Eliot Rockett (who also lensed X as well as several other of West's films like The Innkeepers and The House of the Devil) deserves all the love for what he's able to achieve with his cinematography here, where every frame feels like a piece of art. It's gorgeous, even the more horrific moments that he captures, and it's amazing to me just how much his camerawork truly heightens all of the other elements of Pearl, creating something that feels so wondrous to behold. 
Also, costume designer Malgosia Turzanska should be lauded for her work on Pearl as well, and I loved how so many of her costuming decisions felt anchored in the history of cinema as well, which truly added a lot to the project. Pearl's score from Tyler Bates and Tim Williams is excellent and I think the sound design, especially during key moments in the film, really adds a lot of subtle tension to West's story, making certain aspects of the film even more effective for audiences.
West takes a huge risk with Pearl, and for those who are a bit more movie history-inclined, the rewards are huge. There's true affection for the history of cinema on display in every single frame and I loved how it feels like something you could have seen on the big screen during the Golden Age of Cinema, but still has themes that feel wholly relevant today. Goth once again shines here, making her titular character one of the most fascinating characters to come along in horror in quite some time, and the subtlety of what she does in the very final shot of Pearl is something that has stuck with me. While I'm of the opinion that the movie-making process itself is something of a creative miracle, there's something about what West is able to achieve with Pearl that feels even more astonishingly magical and I could not have possibly loved it more.
Movie Score: 5/5