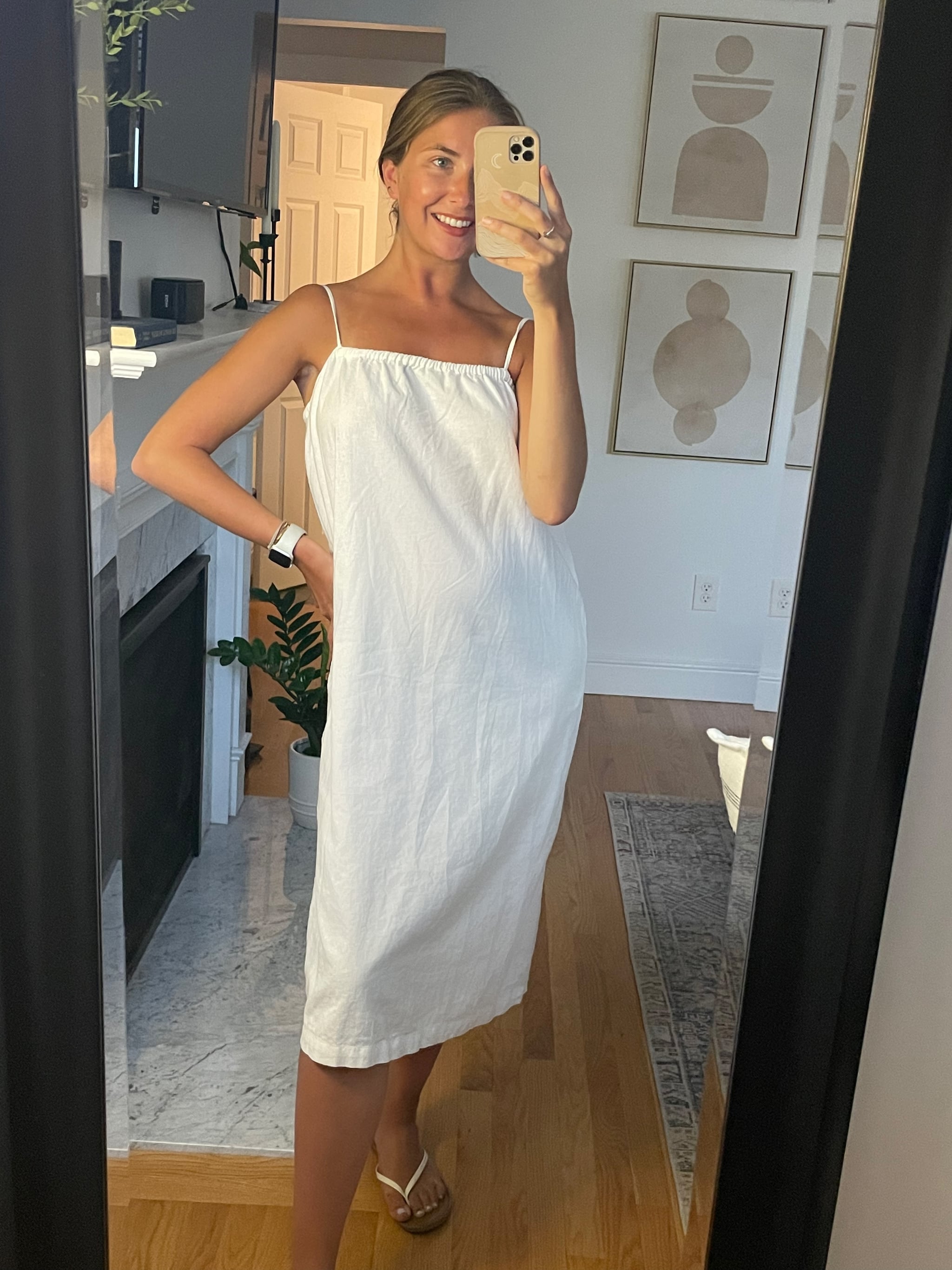 There's nothing like switching your wardrobe from jeans and sweaters to sundresses and shorts, and while I was making this transition, I, of course, had to treat myself to a few new clothing items. I love sundresses, so I perused Target's website for more and landed upon this Easy Linen Tank Dress ($20). I liked this dress for a few reasons: the square neckline is flattering, I love linen fabric, and it appeared easy to dress up or down. For a $20 price (and with a slight shopping addiction), this dress seemed like an unmistakable purchase, and after owning it for a few weeks, I can confirm it was well worth it.
What I Like About Target's Easy Linen Tank Dress
I've said this before, and I'll say it again: I'm a simple chick. It's why I like dresses so much: they're minimal effort yet everyone thinks you're dressed up. This is why I milk sundress season for all its worth — sundresses are easy. I'd wear one every day of the week if I could (and trust me, I have), so when I saw this linen tank dress on Target's website, I knew it'd get lots of wear. The best way to describe this dress is reliable; a dress that you can throw on all the time and feel good in. Bloated? No problem, it won't show it. Plus, its linen fabric is perfect for hot summer days when you don't want to overheat.
How Well Does Target's Easy Linen Tank Dress Fit?
I got a size small (it's available in sizes XS-XXL), and it fits me perfectly. I've even washed it (on cold, mind you, and for very little time in the dryer) and it still fits me well. I'd say this dress's fit is exactly what you'd expect, and it even includes pockets to hold items like a phone or hair tie while on the go. Its adjustable straps are a huge help in ensuring it fits right and its elastic square neckline makes it easy to take on or off. My only stipulation (and this is to be expected) is that this dress's linen fabric wrinkles easily. A few minutes in the dryer will fix this, but it's worth taking note of if you're traveling somewhere. While I picked this dress up in the white color, there are a handful of other options — both solid and striped — that are great for summer.
Would I Recommend Target's Easy Linen Tank Dress?
I think it goes without saying, but I'd definitely recommend this dress. I'm not over how expensive it feels for $20, and I love how versatile its style is. The white color complements my developing tan, and I'll even admit that I've spilled a few things on it and the stains came right out. If you're in the market for a new summer dress, take my word that this one is a great option.
Rating: