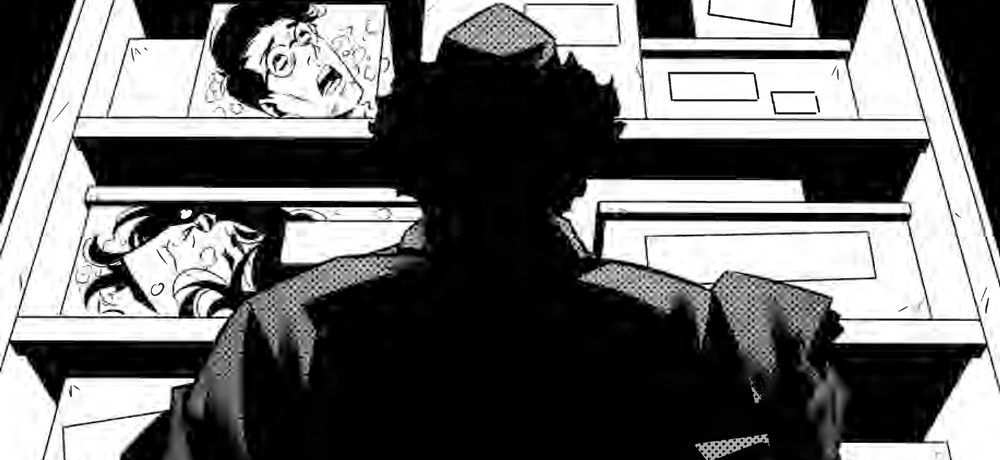 If you've read Archie Comics or watched Riverdale, then you know that Pop Tate's Chock'lit Shoppe is the beating heart of "the town with pep," making it the perfect setting for Chilling Adventures Presents… Pop's Chock'lit Shoppe of Horrors. A new anthology one-shot joining the ever-growing world of Archie Horror, Pop's Chock'lit Shoppe of Horrors will be released on March 22nd, and we're thrilled and chilled to exclusively reveal unlettered black-and-white interior artwork from the upcoming comic!
Below, you can check out the unlettered black-and-white interior artwork by Federico Sabbatini (for the story "Die and Dash," written by Amy Chase), Chris Panda (for the story "Night Shift," written by Ryan Cady), and Liana Kangas (for the story "Soylent Teen," written by Jordan Morris).
W also have some exclusive comments from the creative team behind Pop's Chock'lit Shoppe of Horrors!
Here's what Ryan Cady had to say about writing "Night Shift":
"So much of being a horror writer is just distorting the ordinary culture around you, and in Riverdale, there's this kind of near-idyllic normalcy — at least on the surface. But the catch-22 there is that everything's already kind of heightened; every little nightmare twist you make feels so amped up. I love it."
Jordan Morris, the writer of "Soylent Teen," shared his excitement for working with artist Liana Kangas:
"I'm such a big fan of Liana's work. Not only can they do spooks and gore but the food they draw looks delicious as well! We hope to make our readers oscillate between hungry and nauseous (but in a fun way)!"
Liana Kangas discussed working on a killer story set at Pop Tate's Chock'lit Shoppe:
"Diners, Deaths and Disguises?! (Get it?) Working with Jordan Morris on a Pop-centric story is unlike anything else I've done in the Archie universe thus far–we had the KILLER opportunity to incorporate some iconic members of the Riverdale elite that was incredibly fun for me to draw–from main cast to, I'm calling it, one of your new favorites, you don't want to miss what we've COOKED up!"
Amy Chase talked about collaborating with artist Federico Sabbatini for "Die and Dash":
"Federico does fantastic character work, so much so that it's almost . . . dare I say fun to watch Nick and Sherry's date night fall apart. He really pushed the facial expressions and lighting on some of our dramatic close ups. And his take on Pop totally manages to feel like a lovable Riverdale figurehead and a complete evil mastermind all at the same time!"
And Vincent Lovallo, Archie Comics Art Director, celebrated the creative teams behind all three stories featured in Pop Tate's Chock'lit Shoppe:
"Federico Sabbatini made his incredible debut with Archie Horror in last year's WEIRDER MYSTERIES comic. Just like he did then, Federico pulled out all the stops for his story in POP'S CHOCK'LIT SHOPPE OF HORRORS, including gritty textures, ominous shadows, and Dutch angles to emphasize the foreboding feeling throughout. In collaboration with writer Amy Chase, Federico even got to work up new designs for previously dormant Archie characters Nick St. Clair and Sherry Thyme, a treat for long-time fans and a spooky introduction for new readers."

"Chris Panda stepped up to the plate and delivered some of the most gut-wrenching and disturbing depictions of 'people' eating 'food' I've ever seen in 'Night Shift,' written by Ryan Cady. In addition to the grossness, Chris skillfully captured expressions of terror and unease, especially for fan-favorite character Kevin Keller who is the star of his story."

"Rounding out this trio of terrifying tales is returning Archie Horror artist Liana Kangas, who successfully gave me nightmares with her first chilling contribution to the line in last year's THE RETURN OF CHILLING ADVENTURES IN SORCERY. Once again, Liana brought her trademark style to the forefront in 'Soylent Teen,' written by Jordan Morris, emphasizing the eerie atmosphere of Pop's diner with a fine line that echoes that uneasiness and a gritty texture to highlight the more intense scenarios. Liana also worked up unique fashions for featured characters Betty Cooper and Stacey Banks, giving them a standout look for this special spooky story!"
In case you missed it, Daily Dead and Archie Comics recently teamed up to launch "Archie's House of Horror," a new recurring column written by Jamie L. Rotante, Senior Director of Editorial at Archie Comics, and you can now read the first installment of the column!
Chilling Adventures Presents… Pop's Chock'lit Shoppe of Horrors will be released on March 22nd! You can check out the unlettered black-and-white interior artwork below, and to learn more about all of the great releases coming from Archie Comics, be sure to visit their official website:
CHILLING ADVENTURES PRESENTS… POP'S CHOCK'LIT SHOPPE OF HORRORS (ONE-SHOT)

Pop Tate is the glue holding Riverdale together, whether everyone realizes or not. His Chock'lit Shoppe is the beating heart of the city, where everyone can stop in for a delicious bite and some safe haven—even the worst sorts. And not just the run-of-the-mill rapscallions who recently broke the jukebox. When a young Riverdale couple (Nick St. Clair and Sherry Thyme) attempt to dine and dash on the humble small business owner, they quickly discover the fryer grease isn't the only heart-stopping thing about the Chock'lit Shoppe. From tales of mystery meat to the unnatural visitors that dine late at night, this anthology tells stories about the horrors that happen at Riverdale's beloved malt shop—and how Pop Tate is at the center of it all, the most powerful figure in Riverdale providing haven to all sorts of terrors and underhanded villainy.

Script: Amy Chase, Jordan Morris, Ryan Cady
Art: Federico Sabbatini, Liana Kangas, Chris Panda
Colors: Matt Herms
Letters: Jack Morelli
Cover: Adam Gorham
Variant Cover: Francesco Francavilla
On Sale Date: 3/22
32-page, full color comic
$3.99 U.S.

Federico Sabbatini's Artwork for "Die and Dash":
Chris Panda's Artwork for "Night Shift":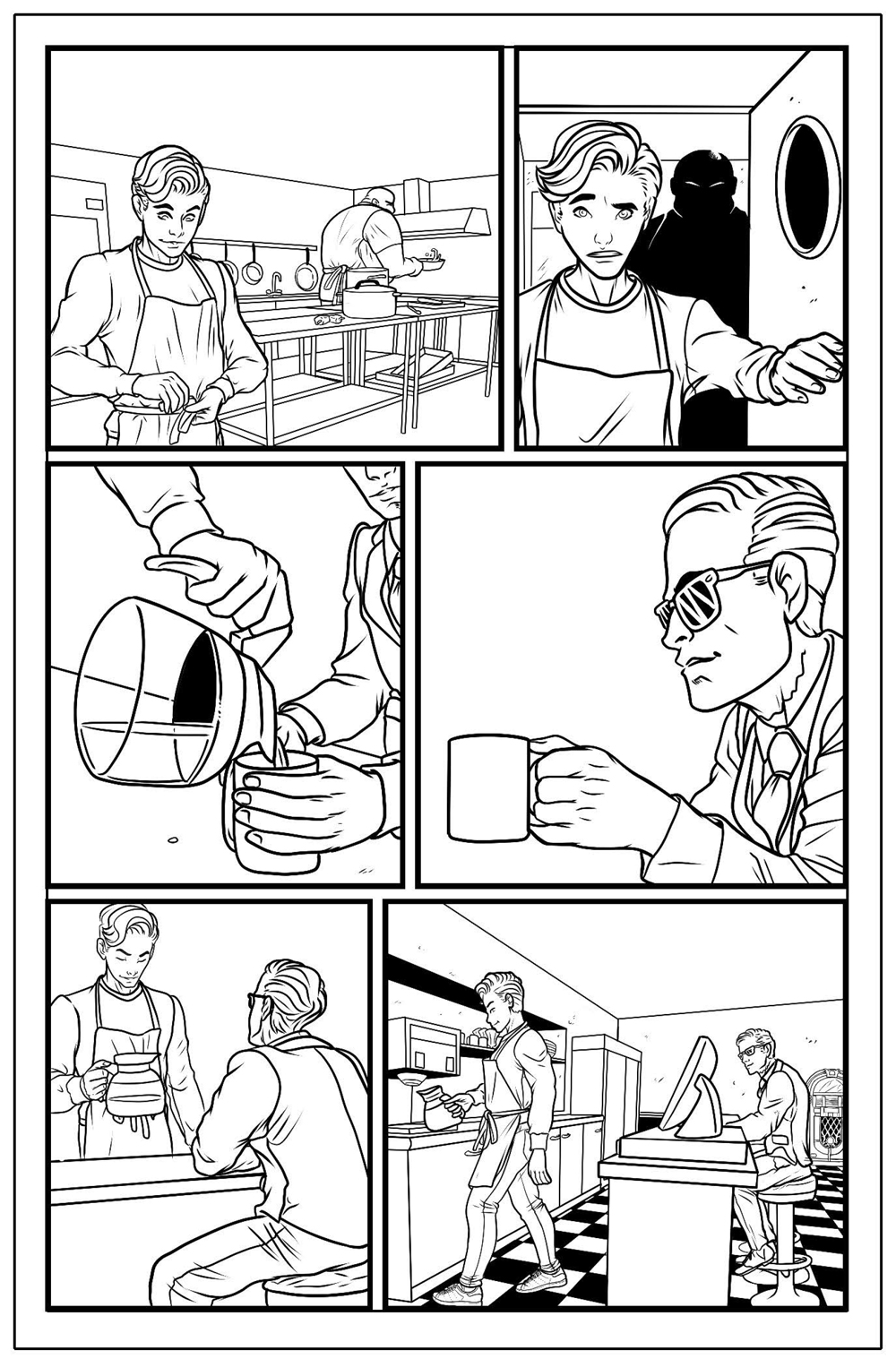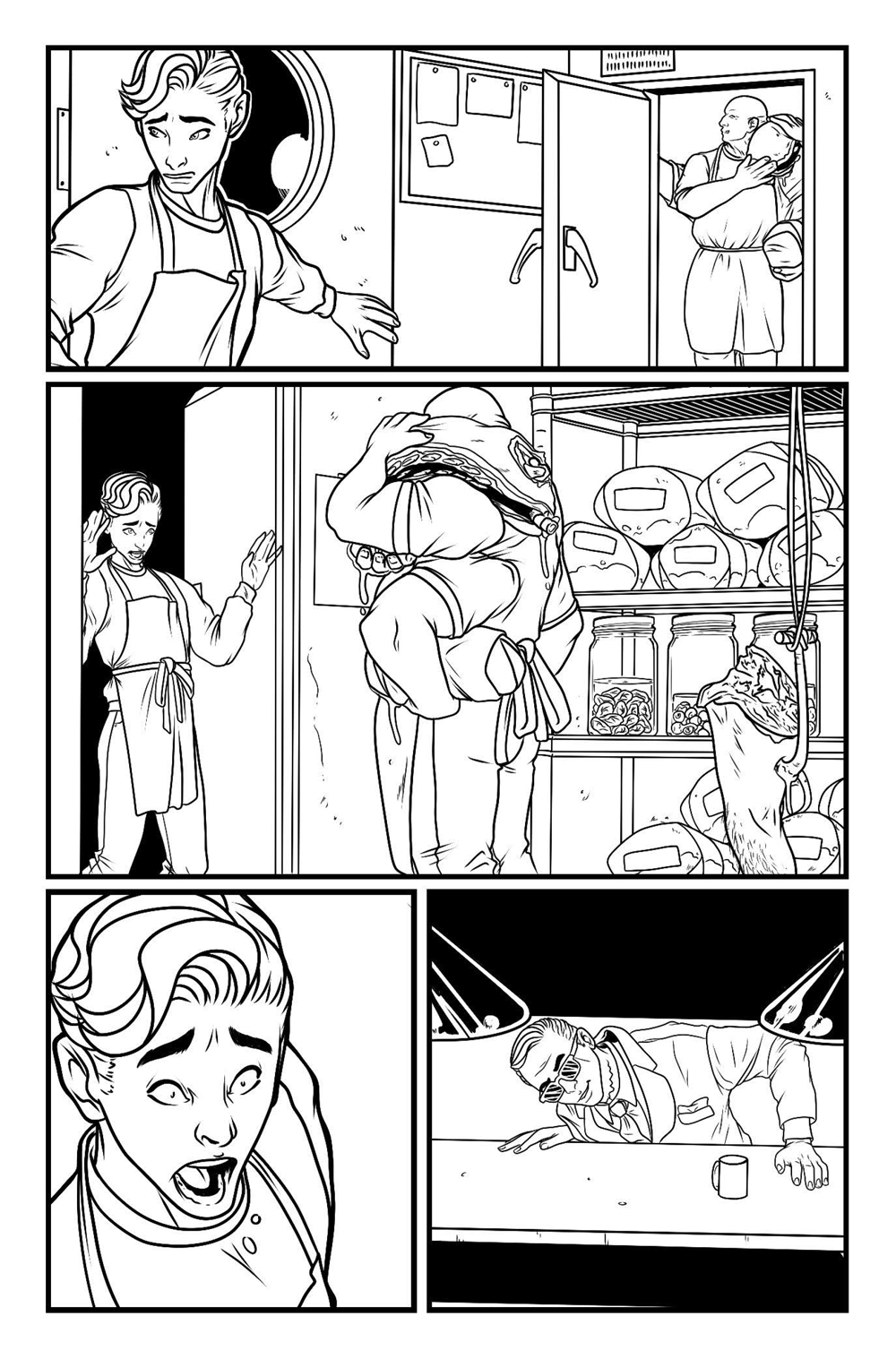 Liana Kangas' Artwork for "Soylent Teen":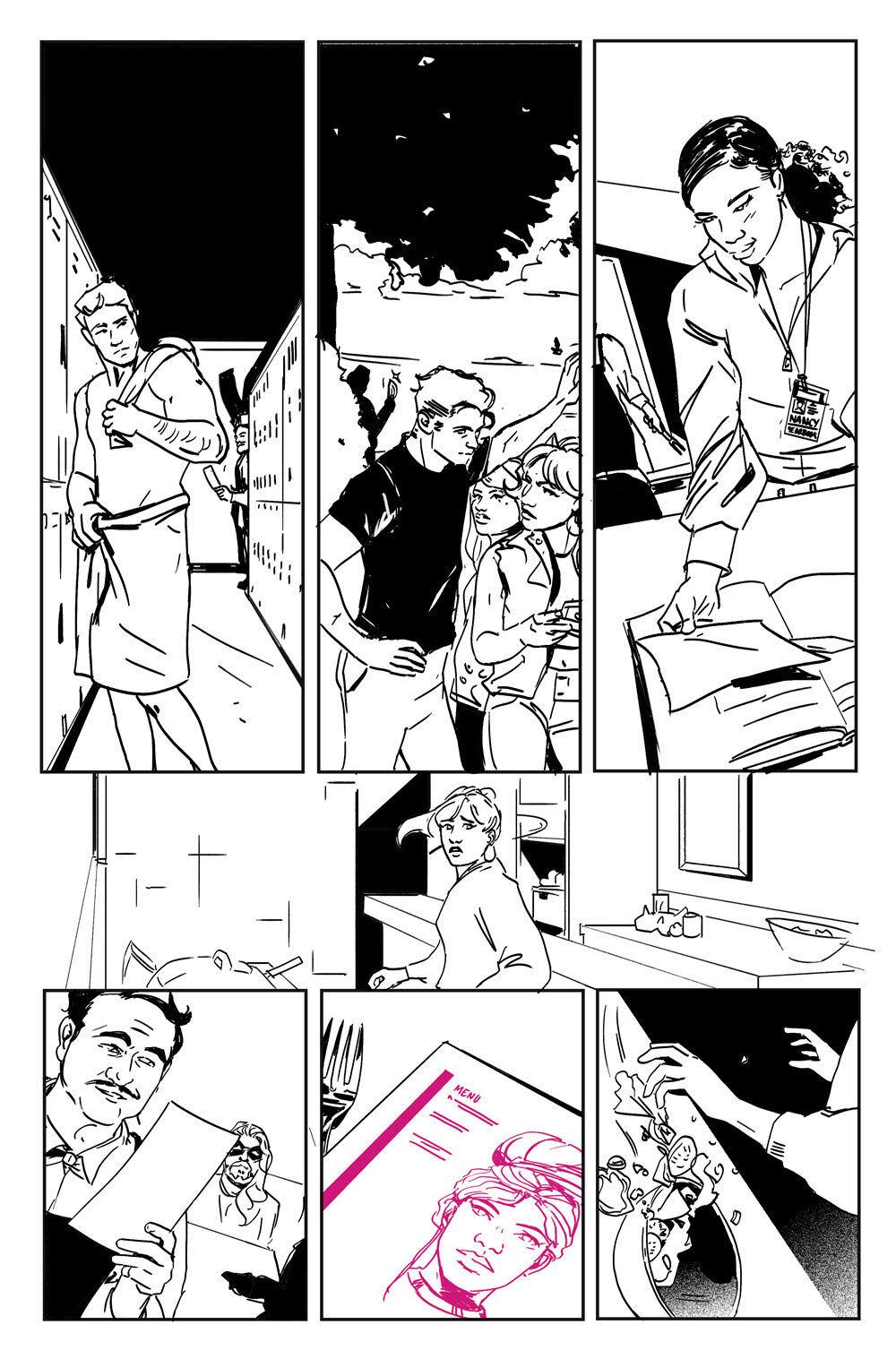 Main Cover Art by Adam Gorham: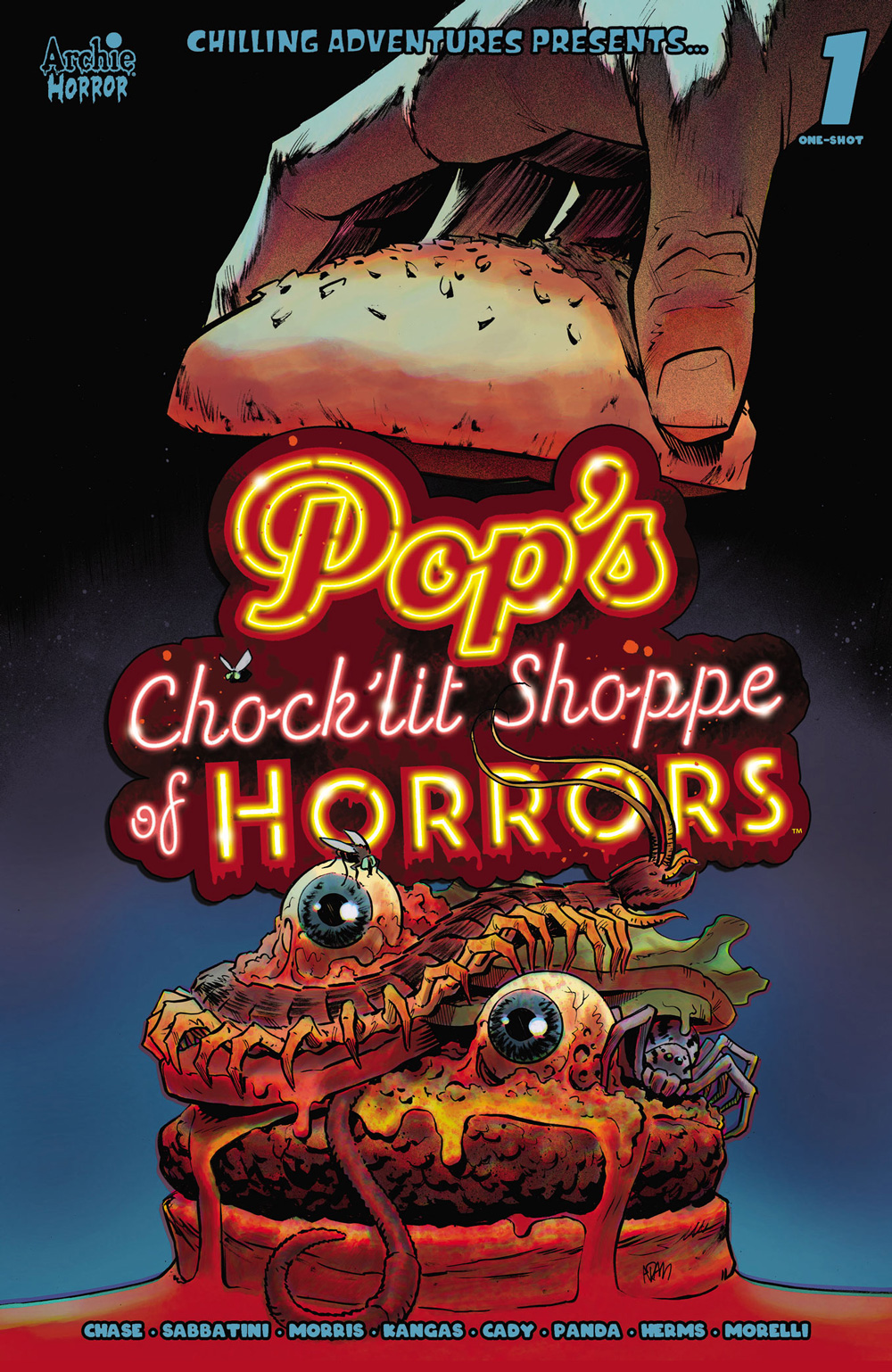 Variant Cover Art by Francesco Francavilla: