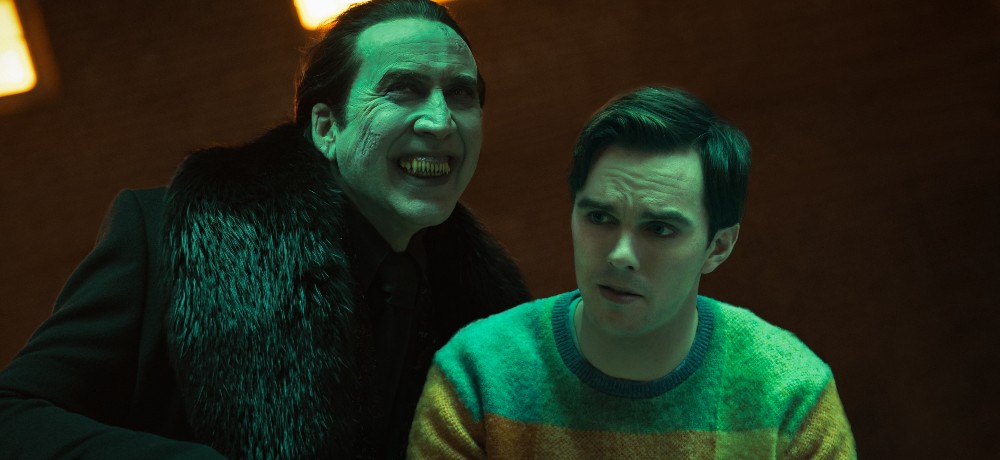 Phoenix Film Festival & International Horror and Sci-Fi Film Festival: "The Phoenix Film Festival started in 2000 by 3 local filmmakers as a way to get their films some exposure in their home town. Twenty-two years and thousands of movies later, the Phoenix Film Foundation has grown from a 3-day exhibition to an 11 day celebration of film with over 250 films, filmmaking seminars, parties and student workshops for over 20,000 attendees all at the Harkins Scottsdale 101.
The Phoenix Film Festival has been named one of The 25 Coolest Film Festivals and a Top 50 Worth the Entry Fee by MovieMaker Magazine and has been called the most filmmaker-friendly festival out there. Most recently, we've also earned a spot on MovieMaker's 20 Great Film Festivals for First-Time Moviemakers."
This year's event takes place from March 23-April 2, 2023 at Harkins Theatres Scottsdale 101 and you can learn more at: https://www.phoenixfilmfestival.com/
International Horror and Sci-Fi Film Festival
SHOWCASE FILMS
Birth/ Rebirth 
(IHSFF Opening Night Film)
Directed by: Laura Moss
Cast: Marin Ireland, Judy Reyes, Breeda Wool, A.J. Lister
Synopsis:  Rose (Marin Ireland) is a pathologist who prefers working with corpses over social interaction. She also has an obsession — the reanimation of the dead. Celie (Judy Reyes) is a maternity nurse who has built her life around her bouncy, chatterbox six-year-old daughter, Lila (A.J. Lister).  When one tragic night, Lila suddenly falls ill and dies, the two women's worlds crash into each other. They embark on a dark path of no return where they will be forced to confront how far they are willing to go to protect what they hold most dear
King on Screen
Director: Daphné Baiwir
Cast: James Caan, Mike Flanagan, Amy Irving, Frank Darabont, Jeffrey DeMunn, Taylor Hackfofrd, Tom Holland, Mick Garris
Synopsis: More than 50 directors have adapted the master of horror's books, in more than 80 films and series, making him the most adapted author still alive in the world. King on Screen showcases the unique relationship as they reimagine his work
Smoking Causes Coughing 
Directed by: Quentin Dupieux
Cast: Gilles Lellouche, Anaïs Demoustier, Vincent Lacoste, Jean-Pascal Zadi, Oulaya Amamra
Synopsis: Smoking Causes Coughing, a wildly inventive new French comedy from Quentin Dupieux. The film, which had its world-premiere in Cannes' Midnight section, follows the misadventures of a team of five superheroes known as the Tobacco Force – Benzene, Nicotine, Methanol, Mercury, and Ammonia. After a devastating battle against a diabolical giant turtle, the Tobacco Force is sent on a mandatory week-long retreat to strengthen their decaying group cohesion. Their sojourn goes wonderfully well until Lézardin, Emperor of Evil, decides to annihilate planet Earth.
Aliens Abducted My Parents and Now I Feel Kinda Left Out
Directed by: Jake Van Wagoner
Cast: Emma Tremblay, Jacob Buster, Will Forte, Elizabeth Mitchell, Kenneth Cummins, Matt Biedel
Synopsis: Miserable after her family moves to a small town, teenage aspiring journalist Itsy befriends Calvin, her strange, space-obsessed neighbor who believes his parents were abducted by aliens, and joins him on his journey to find them.
From Black
Directed by: Thomas Marchese
Cast:  Anna Camp, John Ales, Jennifer Lafleur, Travis Hammer, Ritchie Montgomery, Eduardo Campirano
Synopsis: A young mother, crushed by guilt after the disappearance of her young son 5 years previously, is presented with a bizarre offer to learn the truth and set things right. But how far is she willing to go, and is she willing to pay the terrifying price for a chance to hold her boy again?
Polaris
Directed by: Kirsten Carthew
Cast: Muriel Dutil, Viva (#1) Lee, Khamisa Wilsher
Synopsis:  Set in 2101, against the backdrop of a subarctic wasteland, SUMI, a human-child raised by a POLAR BEAR, narrowly escapes capture from a brutal MORAD hunting party. When Sumi stumbles across FROZEN GIRL, an unlikely friendship is forged. Together they race ahead of the vindictive hunters towards the only guiding light Sumi knows, the POLARIS star.
Megalomaniac
Directed by: Karim Ouelhaj
Cast:  Eline Schumacher, Wim Willaert, Benjamin Ramon
Synopsis: Martha and Felix are the children of the Butcher of Mons, a famous Belgian serial killer from the 1990s. While Martha lives a complicated life, her brother, influenced by the family legacy, continues with his father's killings. Bullied and abused at work, Martha descends into madness and enters Felix's terrifying world. The harshest and most shocking horror film of the year
Brooklyn 45
Directed by: Ted Geoghegan
Cast: Anne Ramsay, Rob E. Rains, Jeremy Holm, Larry Fessenden, Ezra Buzzington, Kristina Klebe
Synopsis: Friday, December 27,1945. Five military veterans gather in the ornate parlour of a Brooklyn brownstone. Best friends since childhood, they've reunited to support their troubled host–but when his invitation for cocktails turns into an impromptu séance, the metaphoric ghosts of their past become all-too-literal. Trapped in their host's lounge, the Greatest Generation now finds themselves put to one final test, with their only route to freedom being more bloodshed.
Satanic Hispanics
Directed by: Mike Mendez, Demian Rugna, Eduardo Sanchez, Gigi Saul Guerrero, and Alejandro Brugues 
Cast: Efren Ramirez,Greg Grunberg, Jonah Ray Rodrigues, Jacob Vargas, Hemky Madera, Patricia Velasquez, Demian Salomon, Luis Machin, and Ari Gallegos 
Synopsis: Satanic Hispanics is an anthology of 5 short films from some of the leading Latin filmmakers in the horror genre, spotlighting Hispanic talent both in front and behind the camera. When police raid a house in El Paso, they find it full of dead Latinos, and only one survivor. He's known as The Traveler, and when they take him to the station for questioning, he tells them those lands are full of magic and talks about the horrors he's encountered in his long time on this earth, about portals to other worlds, mythical creatures, demons and the undead. Stories about Latin American legends.
Ashkal
Director: Youssef Chebbi
Cast: Fatma Oussaifi, Mohamed Houcine Grayaa, Aymen Ben Hmida
Synopsis: Set amongst derelict, half-finished apartment complexes of a former regime, the discovery of a mysterious burnt body by two police officers reveals a puzzling repetition of events. As the investigation progresses, a network of violence and corruption is uncovered throughout the city.
Strange Case of Jacky Caillou
Directed by: Lucas Delangle
Cast: Thomas Parigi, Lou Lampros, Edwige Blondiau, Jean-Louis Coulloc'h, Romain Laguna, Georges Isnard, Sivan Garavagno, Jean-Marc Ravera
Synopsis: Small village, high in the French Alps, today. Jacky Caillou lives with his loving grandmother Gisele, a magnetic healer respected by all. Elsa, a young woman comes from the city to consult: a strange hairy dark stain grows on her back…When the village starts to suffer herd killings, and his grandmother passes away, Jacky urgently needs to understand if he inherited the ancestral gift. Will he manage to save both Elsa and his village?
The Angry Black Girl and Her Monster 
(IHSFF Closing Film)
Directed by: Bomani J. Story
Cast: Laya DeLeon Hayes, Denzel Whitaker, Chad L. Coleman, Reilly Brooke Stith, Keith Holliday, Amani Summer, Edem Atsu-Swanzy, Ellis Hobbs IV, Dale DeCarlos, Beth Felice, Tracie Frank, Dilon Ballard, Tim Perez-Ross, Parker Dowling
Synopsis: Vicaria is a brilliant teenager who believes death is a disease that can be cured. After the brutal and sudden murder of her brother, she embarks on a dangerous journey to bring him back to life. Inspired by Mary Shelley's Frankenstein, THE ANGRY BLACK GIRL AND HER MONSTER thematically challenges our ideas of life and death. Bomani J. Story, the film's writer and director, crafts a thrilling tale about a family that, despite the terrors of systemic pressure, will survive and be reborn again.
Renfield 
(Phoenix Film Festival Closing Night Film)
Run Time: 95 minutes
Directed by: Chris McKay
Cast: Nicholas Hoult, Nicolas Cage, Awkwafina, Ben Schwartz, Adrian Martinez and Shohreh Aghdashloo
Synopsis: Evil doesn't span eternity without a little help. In this modern monster tale of Dracula's loyal servant, Nicholas Hoult (Mad Max: Fury Road, X-Men franchise) stars as Renfield, the tortured aide to history's most narcissistic boss, Dracula (Oscar ®  winner Nicolas Cage).  Renfield is forced to procure his master's prey and do his every bidding, no matter how debased. But now, after centuries of servitude, Renfield is ready to see if there's a life outside the shadow of The Prince of Darkness. If only he can figure out how to end his codependency.
COMPETITION FILMS
IHSFF Horror Competition
Mind Body Spirit
Directed by: Alex Henes & Matthew Merenda
Cast: Sarah J Bartholomew, Madi Bready, Kristi Noory, Anna Knigge, KJ Flahive
Synopsis: An aspiring yoga influencer embarks on a ritual practice left behind by her estranged grandmother.
Bad Connection
Directed by: Jake Helgren
Cast: Dana Davis, Chris Gann, Deon Richmond, Tiffany Shepis, Camila Banus, Brooke Anne Smith
Synopsis: When a downtrodden young waitress buys a stolen cell phone and discovers a snuff film on it, she soon finds herself on the run from a maniacal madman with a hunting knife who is hellbent on getting it back, and willing to slaughter anyone who stands in his way.
In A Dark, Dark Room (Subtitled)
Directed by: Denis Sobolev
Cast: Iryna Kubashova, Rey Eremey, Aleksandr Kobzar, Yelyzaveta Vasylenko
Synopsis: In a small town, misfit teens discover an ominous site of pagans, awakening a dark force that is fought by a mysterious biker – a history teacher by day and a witch hunter by night.
Johnny Z
Directed by: Jonathan Straiton
Cast: Micheal Merchant, Felix Cortes, David E McMahon, Jason Delgado, Ellie Church, Trey Harrison, Wayne W Johnson, Billy Garberina and Ron Bonk.
Synopsis: Johnny Z is a horror-action feature film about a half human, half zombie named Johnny who, under the guidance of a martial arts master seeks vengeance on the evil corporation that created him.
IHSFF Sci-Fi Competition
Coyote
Directed by: Dustin Curtis Murphy
Cast: Therica Wilson-Read, Borislava Stratieva, Ailish Symons, Ruhtxjiaïh Bèllènéa, Chris Kyriacou, Tian Chaudhry, Beruce Khan, Richard Glover
Synopsis: A story of forbidden love in a dystopian future where teleportation technology enables two refugees to escape genocide. When they trust the wrong back-alley teleporter, Ekaterina and Anya are separated. In a desperate attempt to be reunited, our heroines are entwined in an insidious human trafficking ring involving corrupt politicians.
Once Upon A Time In The Future: 2121 (Subtitled)
Directed by: Serpil Altın
Cast: Selen Öztürk, Çağdaş Onur Öztürk, Ayşenil Şamlıoğlu, Sukeyna Kılıç
Synopsis: In the future, the earth becomes uninhabitable due to climate crisis and famine. According to The Scarcity Laws of the Young Administration which controls this system, old generations must be destroyed in exchange for new lives. The life of a family is changed by a new baby they are expecting.
Algorhythmics (Subtitled)
Directed by: Marcin Piotrowski
Cast: Bartłomiej Firlet, Aleksandra Zagrodzka, Katarzyna Dąbrowska, Paulina Chapko, Sławomir Sulej, Borys Otawa, Amelia Lutyńska
Synopsis: The upcoming premiere of a dance show related to Marcin's deceased wife, titled Algorhythmics, sets off a train of events that will help him realize that living in the past and worrying about the future can ruin his and his 10 years old daughter's present.
Phi 1.618 (Subtitled)
Directed by: Theodore Ushev
Cast: Martina Apostolova, Deyan Donkov. Kitodar Todorov. Vasil Duev – Taig, Ivo Stanoev, Ivo Dimchev
Synopsis: In a dystopian future the planet is populated by biotitans and immortals. Under threat by their toxic planet, they plan their escape in a giant spaceship. But their fragile balance tips when Krypton, the calligrapher, witnesses a forbidden book turning into Gargara, a feisty young punk girl.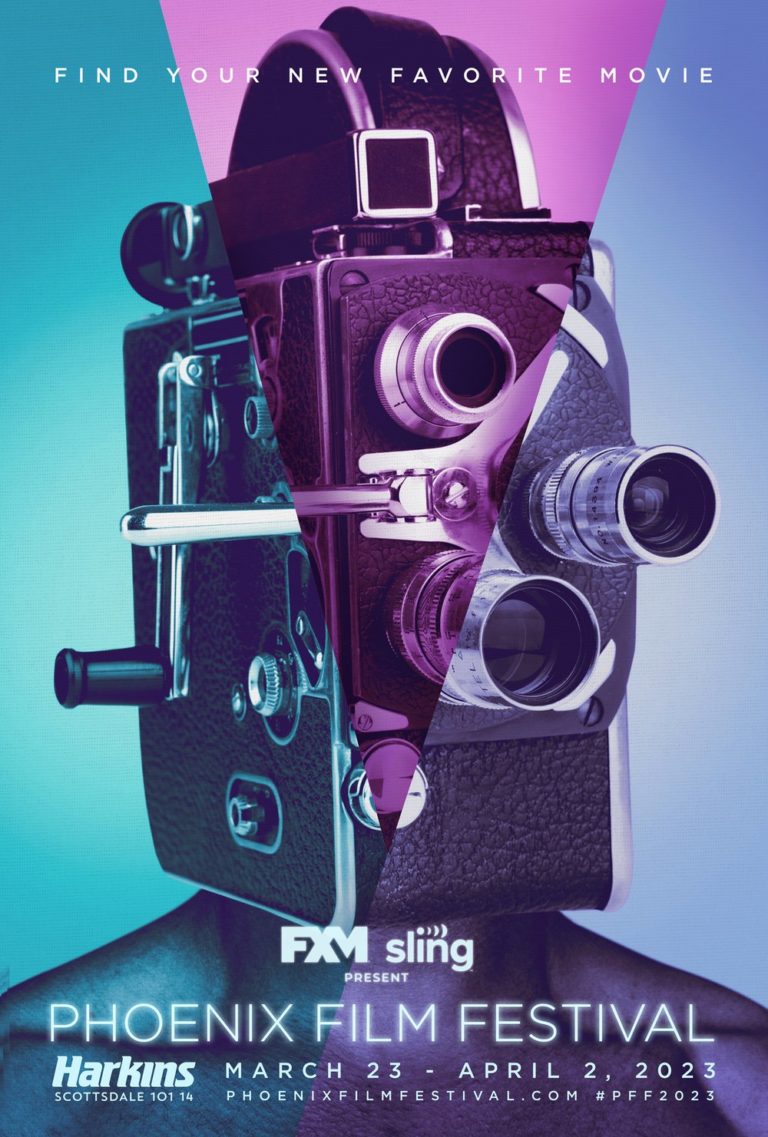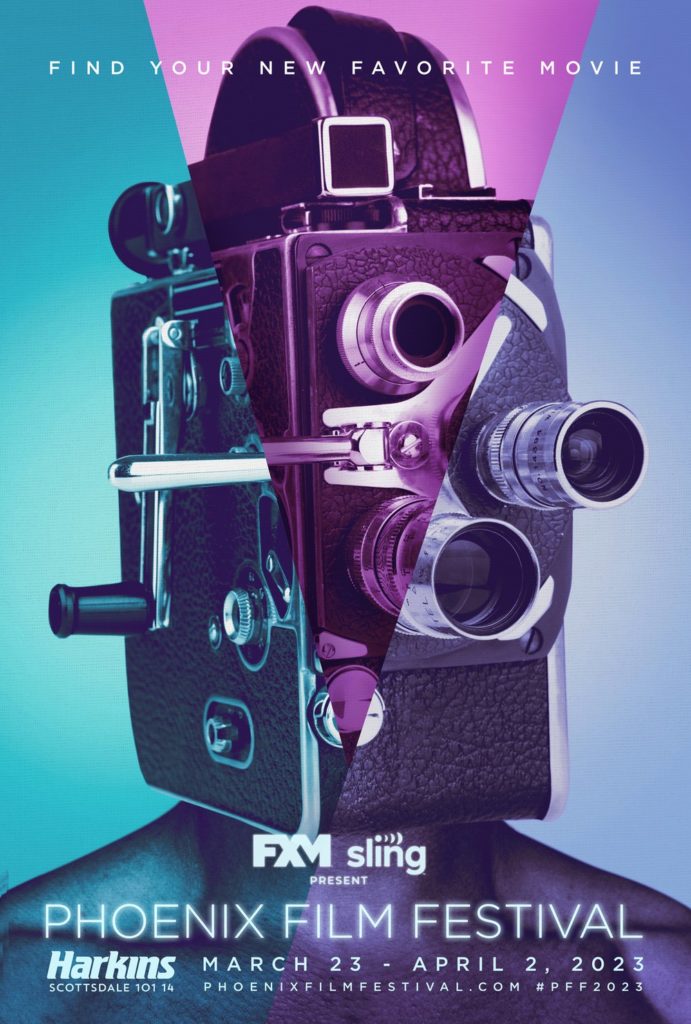 —
FOOTSTEPS: Footsteps coming soon from Pipe Screams Productions, written and directed by Janine Pipe (HER) with Executive Producer Neil Marshall (Dog Soldiers, The Descent).
Tagline – Some lores are meant to be broken.
Logline – A group of young women head to Marshall Woods, intending to blow off steam and find inspiration for their book about local 'missing person' lore and legends. They soon discover they are not alone and unwittingly begin a bloody fight for survival against a terrifying and unnatural antagonist.
Hot on the tail of Pipe's first short film, HER comes Footsteps, an adaptation of the short story of the same name which first appeared in the 2020 charity anthology Diabolica Britannica and was subsequently nominated for a Splatterpunk Award due to the extreme nature of the violence and use of menstrual blood as a plot-point. It is also featured in Pipe's collection, Twisted: Tainted Tales (2021). Readers often praised the cinematic feel of the piece and it remained in the back of Pipe's mind that maybe one day, it would be adapted for the screen. With nods to Carrie, Blair Witch Project and Evil Dead, it is a self-contained tale with potential to become a feature. Viewers won't be left feeling cheated, but they will want more and Pipe has plans to fully explore the lore in the future.
Having collaborated with Marshall for her book Sausages: The Making of Dog Soldiers, the director has been eager to work with her mentor and friend again before they begin prepping for The Making of The Descent, set to release in 2025. 
Footsteps boasts a women only cast and will showcase practical effects and a creature design worthy of a low budget homage EP Marshall. Other crew members so far include:
James L Perkins – Producer
Rebecca Wilcox – First AD
Sam Mason Bell – DoP
Georgie Kerrsenbrock – SFX
Christian Francis – Graphic Design
Filming will take place in Pipe's hometown of Swindon in September 2023 with the dream goal to premiere at London's FrightFest in August 2024. 
Pipe and her team are hoping to fund the majority of the short via Indiegogo. Perks include a Special Thanks IMDb credit, an exclusive poster signed by Pipe and Marshall and various producer status levels along with one very special edition perk – an original Dog Soldiers quad poster signed by Marshall along with Sean Pertwee, Darren Morfitt and Craig Conway. 
Pipe adds, 'Times are hard right now for many people and you may find that although you'd like to support a British women-driven indie genre production oozing with blood, you just can't financially. But that doesn't mean you still can't be hugely beneficial in helping us by spreading the word and sharing the campaign wherever you can. And for that we will be massively grateful.'
You can support Footsteps here – https://www.indiegogo.com/projects/footsteps-film-by-janine-pipe-ep-neil-marshall/x/29481106#/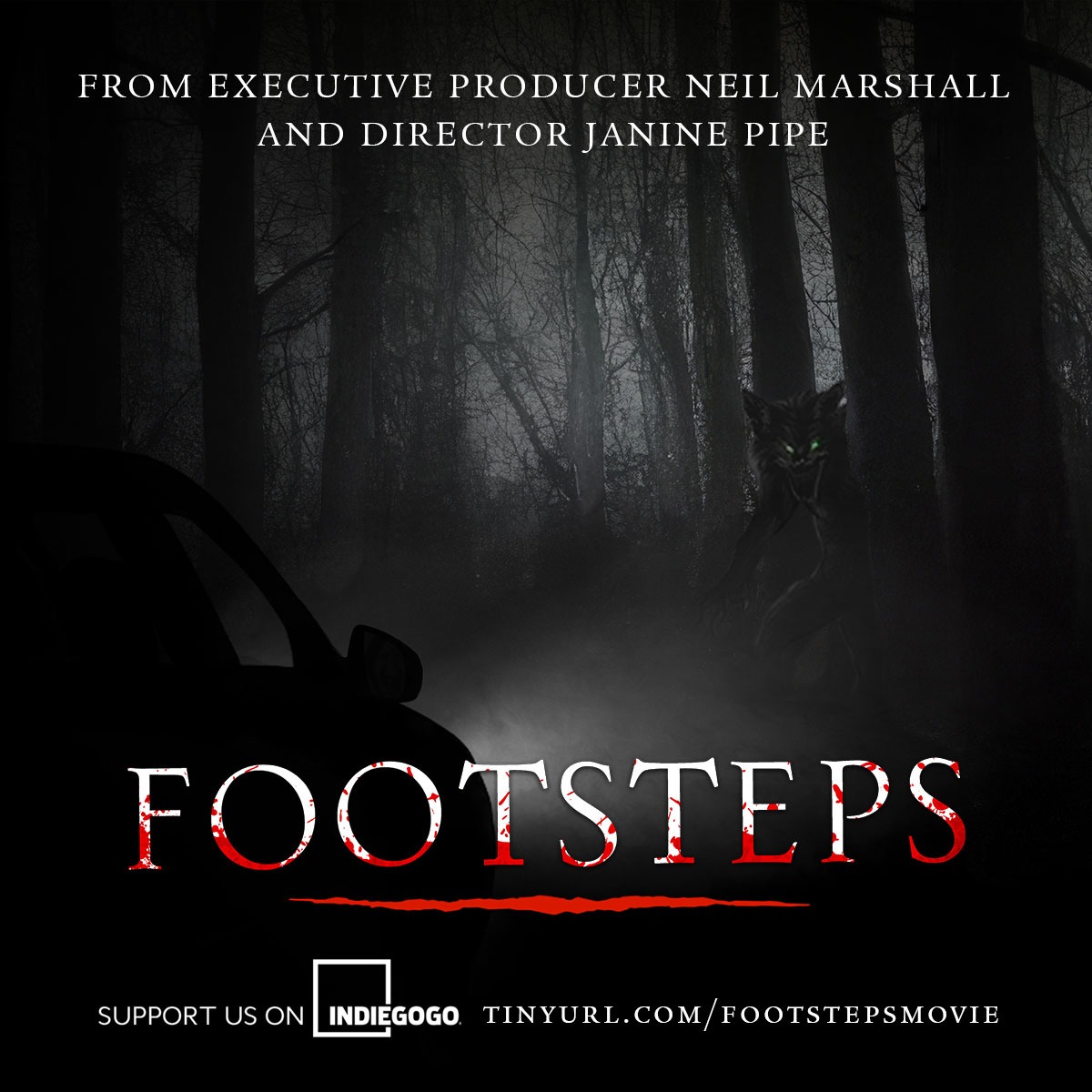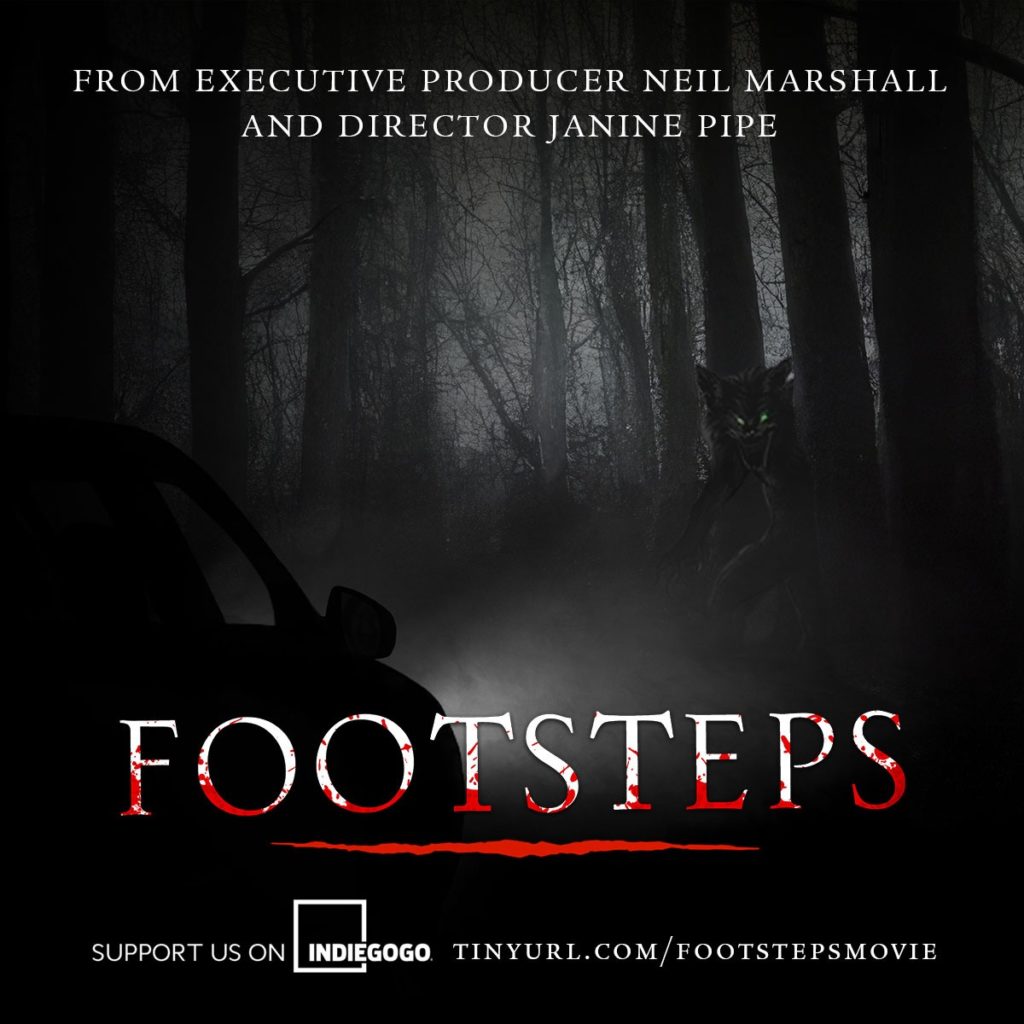 —
THE ANCESTRAL: "Cinedigm has acquired all North American rights to The Ancestral, the disturbing new horror film from renowned director Le-Van Kiet (The Requin). The Company plans to release The Ancestral on its horror streaming platform, SCREAMBOX, which is powered by Bloody Disgusting, later this year as a SCREAMBOX Original. 
After suffering a family tragedy, a widower moves his two daughters to a centuries-old ancestral home. When both daughters fall prey to sleep paralysis and night terrors, their father seeks the help of a local psychologist. These chilling secrets and frightening visions eventually prove that not everything is what it seems in the old family house.
The Ancestral released theatrically in Vietnam last year. It held the top spot for two consecutive weekends, making it the second consecutive success for the visionary director Kiet. His bold style first caught the eye of the international community after his film Furie became Vietnam's highest-grossing film of all time; the film went on to become the country's submission to the Academy Awards® for Best International Feature. He was later tapped to direct the Hulu Original film The Princess, starring Joey King and Dominic Cooper. 
The Ancestral is also written by Kiet with contributions from Vo Nguyen Dan. The film stars Lâm Thanh Mỹ (Hollow), Quang Tuấn (Glorious Ashes) & Mai Cát Vi (The Third Wife). The film was produced by Kiet, Nguyen Le Lan Anh and Dan Trong Tran, with Tran also acting as Executive Producer.
"There's a tremendous demand in the U.S. for Asian horror content. With a rich tradition of innovation and creativity, directors have never shied away from pushing the genre forward," said Brad Miska, Managing Director of Bloody Disgusting. "Horror films that take place in the home, like The Ancestral, are a different level of unsettling, and I'm thrilled to share this terrifying film with our SCREAMBOX viewers."
The deal was negotiated by Brandon Hill, Director of Acquisitions, on behalf of Cinedigm and WME Independent on behalf of the licensor Blue Lantern LLC.
SCREAMBOX features a broad mix of content for casual and die-hard horror fans alike. The service is refreshed monthly with content from the Company's extensive genre library with films and episodes delivering every type of terror imaginable — Supernatural, Slashers, Zombies and more. SCREAMBOX currently features classic horror films like Slumber Party Massacre and the original House on Haunted Hill, the blockbuster indie horror films The Outwaters and Terrifier 2 as well as horror series such as "The Island" and "Master of Horror." SCREAMBOX recently acquired the docuseries "RoboDoc: The Creation of RoboCop" and the documentary film Hollywood Dreams and Nightmares: The Robert Englund Story. SCREAMBOX is available to stream on iOS, Android, Prime Video, YouTube TV, Comcast, Cox and screambox.com."