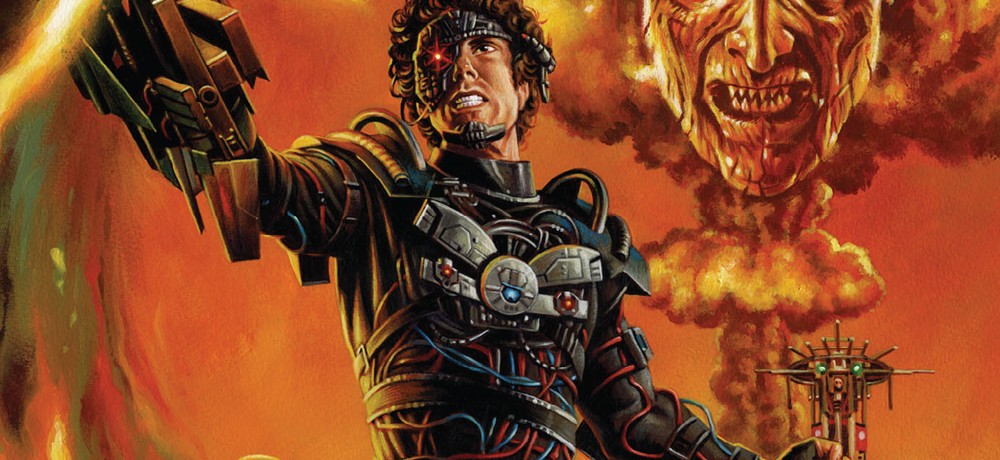 MANBORG: THE NOVELIZATION BLASTS ONTO BOOKSHELVES FROM AUTHOR BRET NELSON AND ENCYCLOPOCALYPSE PUBLICATIONS: "Encyclopocalypse Publications, founded by Saturn and Rondo Award-winning writer/producer Mark Alan Miller (Nightbreed: The Director's Cut, BOOM! Studios' Hellraiser comics) is proud to add Manborg to its wildly addicting novelization series.
Manborg is penned by Bret Nelson (author of Lumber and Other Tales) from the original script by Steven Kostanski and Jeremy Gillespie.
"Whenever I read about the movie, Manborg, it is noted early and often that the team at Astron 6 managed to make it for $1,000 CAD. I'd rather note, early and often, that the budget limitations were overcome by the talent and tenacity of the filmmakers." Nelson says. "Yes, it has a garage-band feel and it's rough around the edges. But look deeper. The wide shots of Meganet City feature vehicles and people in the backgrounds, you'd expect a pan across a still image. In dialogue, the usual low-budget, minutes-long two-shots are absent. Armies of Killborgs. Stop-motion beasts. Really cool villains and heroes. There's a whole movie here, a whole world that extends beyond the edges of the frame."
Manborg is a 2011 Canadian sci-fi action written by Jeremy Gillespie (The Void, Father's Day) and Steven Kostanski (The Void, Psycho Goreman), directed by Kostanski and released by the always-brilliant Raven Banner, Ent.  
Bret Nelson continues, "My goal with the novelization was to show the wider timeline and the larger view of the world and characters. But to build those things organically from the screenplay and the film. And above all, keep it crazy and fun. That's my hope for anyone reading it. That they have fun. I certainly did."
"I am so f&%king stoked to be releasing Manborg!" Miller says. "It's one of my favorite movies. So much so, in fact, that I had originally planned on writing the book. But when I was unable to commit the time, I did the second-best thing and hired a better writer."
Steven Kostanski had this to say after reading the novelization of his film, "Bret Nelson has transformed my admittedly simplistic film script into an engaging action-packed story, expanding the world and the characters in an organic way that typically doesn't happen with novels adapted from feature films. It's a great companion piece to the film, and I'm honored to have new life injected into the undead cyborg that is MANBORG."
Bret Nelson is an Emmy-award-winning creator. When he's not writing stories, he makes TV programs, movies, and stage shows. Plus video and tabletop games. And TOYS. Right now he's working on things he can't talk about (that's what the contracts say).
Manborg will be available June 10th in eBook and in paperback exclusively on Amazon. Pre-order your Kindle copy now, here: http://mybook.to/Manborg"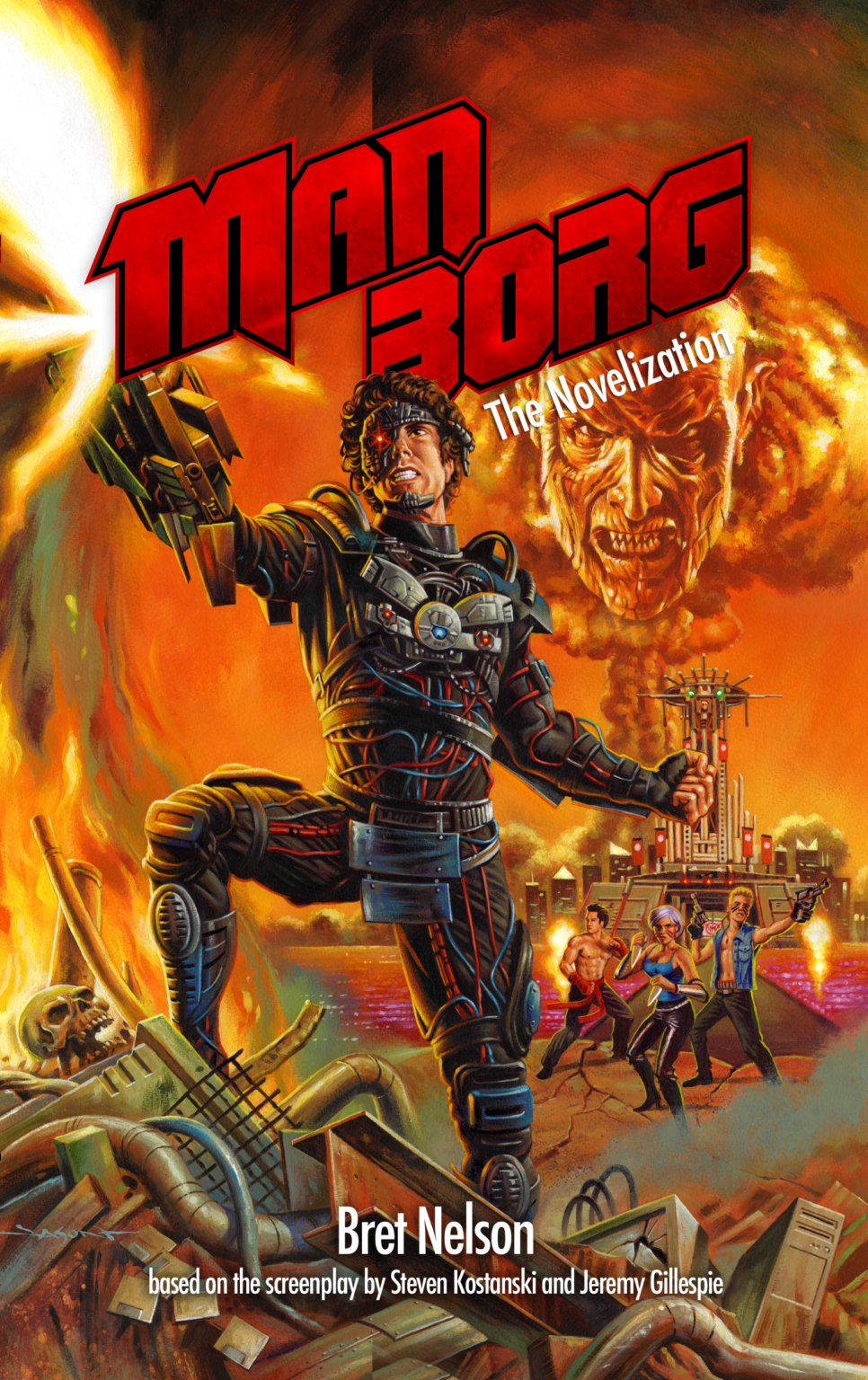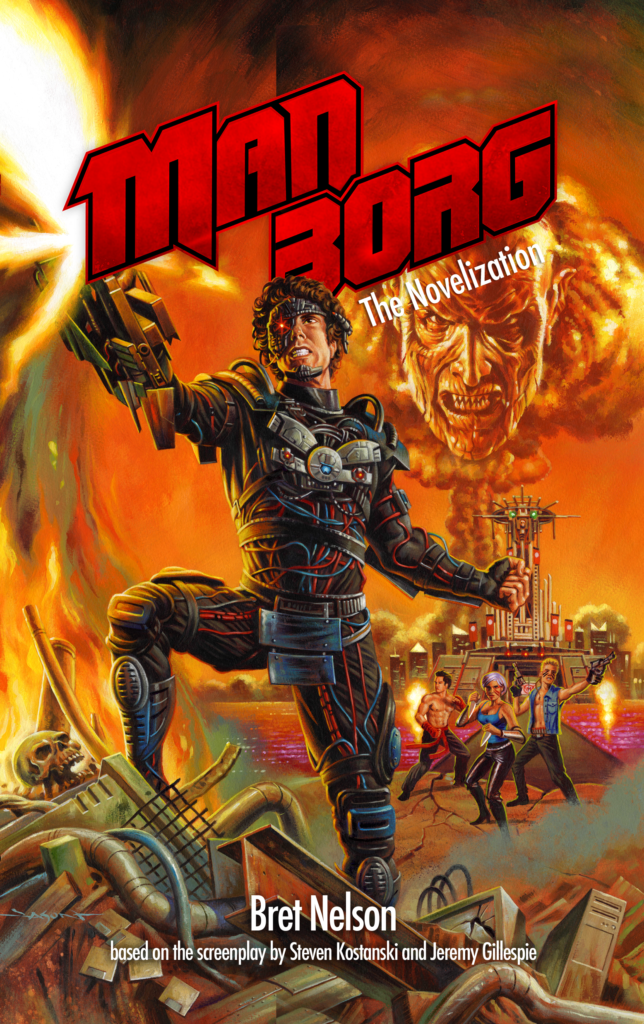 —-
HUESERA: "XYZ Films today releases the first teaser and poster for the upcoming Mexican occult horror Huesera, the breakout feature debut from Michelle Garza Cervera, which they've acquired for theatrical release in North America as one of the first slate of titles under their new distribution arm and an early pick-up ahead of the Tribeca Film Fest. The esteemed American production, management, sales, and distribution company will rep the title for sales in additional territories and most recently introduced it to international buyers at the 2022 Cannes Marché du Film. Huesera will world premiere on June 9th at Tribeca as part of the festival's Midnight section.
Garza Cervera, a rising young director in the Mexican genre film scene, has been recognized internationally for her celebrated short films that have played in over a hundred film festivals around the world, including Fantastic Fest, the Fantasia International Film Festival, and Sitges. Huesera is produced by Machete and Disruptiva in co-production with Señor Z, Maligno Gorehouse, IMCINE, Terminal, Simplemente, and Estudios Churubusco, and is co-written by Garza Cervera and Abia Castillo. It stars Natalia Solián, Alfonso Dosal (Netflix's Narcos: Mexico), Mayra Batalla (Prayers for the Stolen), Mercedes Hernández (Identifying Features), Aída López (Capadocia), and Martha Claudia Moreno.
In Huesera, Valeria's (Natalia Solián) joy at becoming pregnant with her first child is quickly taken away when she's cursed by a sinister entity. As danger closes in and relationships with her family become fractured, she's forced deeper into a chilling world of dark magic that threatens to consume her. A group of witches emerge that could be her only hope for safety and salvation, but not without grave risk.
The film has long been a title to watch on the industry circuit and was previously selected for the esteemed Blood Window and Fantastic 7 showcases at Cannes and spotlighted as a buzzed-about project at the Guadalajara Film Market when it was in pre-production.
The film will be released theatrically in North America by XYZ Films following its global film festival run."
—
A Little Dead: ""A Little Dead," a classic ghost story with a mental health twist from actor/director Ben  Richardson, will screen at the 25th Dances With Films Festival at the Los Angeles TCL Chinese Theatres  on Thursday, June 16th at 5:00 P.M.  
After the death of their grandmother, siblings Hailey and Kevin (Eden McGuire and Ben  Richardson) visit their grandpa (Jack C. Hays) on his isolated farm. They soon discover strange things  happening in both the house and their grandpa's mind. Aside from his caretaker having vanished, they  grow concerned after learning that Grandpa shares a drink with his dead wife and another unseen entity  each night. They siblings argue about Grandpa's mental wellness, but they must unravel the meaning of  his new ritual before having to face its tragic consequences.  
"A Little Dead" tackles the uncertainty of Alzheimer's and Dementia and the brutal impact it has  on a loving family. Whether Grandpa is haunted only by memories or by actual ghosts, the siblings  struggle to face the monster that's disrupted their peaceful weekend visit.  
The story was inspired by actual events in Ben Richardson's life in dealing with a grandparent's  potential diagnosis of Alzheimer's Dementia. Richardson knew he wanted to explore the precariousness  of mental health issues facing elderly people, but also felt the story lended itself to a supernatural twist  that elevates the eeriness and unsettled anxiety surrounding the characters.  
Richardson adds, "Is the monster real, or is it all in Grandpa's mind? The answer is: it is exactly  what you want it to be, and that's the beauty of this film. You can leave telling your friends you just  watched a horror film, or a drama; it's all in the eye of the beholder." 
"A Little Dead" screens at the TCL Chinese Theatres in Los Angeles Thursday, June 16th at 5:00  P.M. as part of the Dances With Films "Fusion Shorts Block 5." Richardson, along with members of the  cast and crew, will be in attendance and participate in a Q&A following the screening. "
—
NEON LIGHTS: "Guests begin disappearing in an off-grid location, during a family reunion of misfit siblings and their offspring."
Starring
Dana Abraham, Brenna Coates, Brit MacRae, Stephen Tracey, Rene Escobar, Jr., Erika Swayze, Lauren Howe and Kim Coates
Directed by
Rouzbeh Heydari
Written by
Dana Abraham