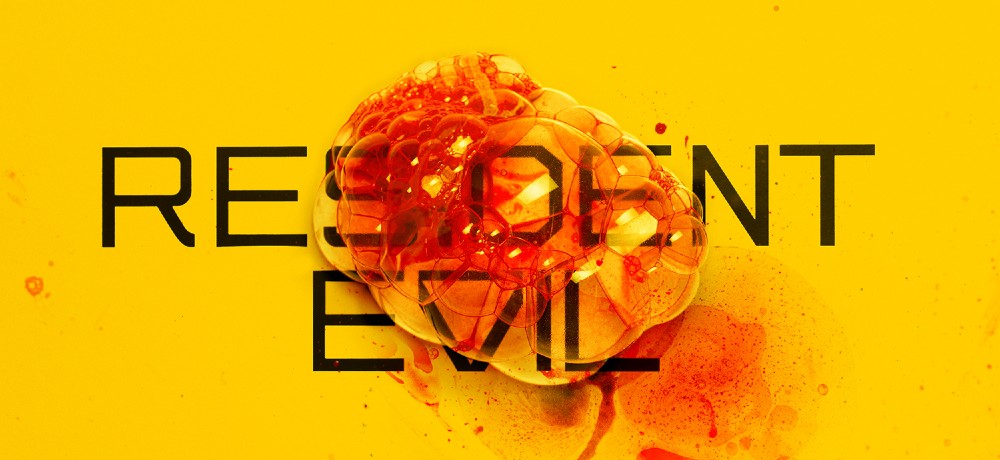 Watch the Trailer for the New RESIDENT EVIL Netflix Series: "Year 2036 – 14 years after a deadly virus caused a global apocalypse, Jade Wesker fights for survival in a world overrun by the blood-thirsty infected and insane creatures. In this absolute carnage, Jade is haunted by her past in New Raccoon City, by her father's chilling connections to the Umbrella Corporation but mostly by what happened to her sister, Billie."
SERIES LAUNCH DATE: July 14
SHOWRUNNER/EXECUTIVE PRODUCER/WRITER: Andrew Dabb (Supernatural)
EXECUTIVE PRODUCER / WRITER: Mary Leah Sutton
EXECUTIVE PRODUCERS: Robert Kulzer and Oliver Berben of Constantin Film
PRODUCER: Constantin Film CEO Martin Moszkowicz
STUDIO: Constantin Film
FORMAT: 8 x 1 Hour episodes
CAST:
Lance Reddick, Ella Balinska, Tamara Smart, Siena Agudong, Adeline Rudolph, Paola Nuñez, Ahad Raza Mir, Connor Gossatti, Turlough Convery
—-
Tubi Boards Classic Horror Film TERROR TRAIN Remake To Premiere October 2022: "Tubi (www.tubi.tv), a division of FOX Entertainment, is excited to announce a collaboration with Incendo on the remake of the cult classic horror film TERROR TRAIN. A Tubi Original, TERROR TRAIN is slated to premiere this October as part of the platform's successful annual month-long Halloween-inspired genre celebration, "Terror on Tubi." TERROR TRAIN will join over 10,000 horror and thriller titles currently available on Tubi, further cementing the platform as the premier destination for horror fans. The film reboot wrapped production recently in Montreal and will be available in the U.S. exclusively on Tubi.
The new TERROR TRAIN adaptation, produced by Incendo, is set to thrill horror fans who have been clamoring for this remake for years. "Terror Train" (1980) starred the original "scream queen," Jamie Lee Curtis, as well as Ben Johnson and David Copperfield, and has long been celebrated for its cult classic status in the slasher/horror genre.
The new cast is led by Canadian actress Robyn Alomar ("Utopia Falls"), who gives a breakout performance and is poised to be crowned the newest scream queen, as well as Tim Rozon ("Schitt's Creek").  The remake is written by Ian Carpenter and Aaron Martin ("Slasher"), and is directed by long-time Incendo collaborator Philippe Gagnon ("Amber Alert"). TERROR TRAIN is produced by Graham Ludlow and Kaleigh Kavanagh; executive producers are Graham Ludlow, Shari Segal and Brook Peters.
In this contemporary reimagining, eerie excitement is in the air as Alana (Robyn Alomar) and a group of college seniors board a party train for a Halloween-themed bash, but their fun spirals into fear as attendees are killed off one by one by an unknown killer.  Concealed by costumes and plagued with chaos, everyone is a suspect. As the party train continues full steam ahead, Alana must race against the rails to find the killer before she becomes the next victim.
"We can't wait for viewers to take a ride on the TERROR TRAIN, the tentpole for our annual 'Terror on Tubi' event in October," said Adam Lewinson, Chief Content Officer, Tubi. "With an incredibly talented team of filmmakers and star-making performances, this movie continues to cement Tubi as a key destination for horror fans."
"This is a new chapter for Incendo," said Brook Peters, Executive Producer, Incendo. "Our strategy to diversify and grow our production slate is coming to fruition and we couldn't be more pleased to find such an incredible partner in Tubi for this project. Tubi has had enormous success with horror-genre content, and we can't wait for them to bring our take on TERROR TRAIN to their audience in the U.S."
TERROR TRAIN was highlighted at Tubi's NewFronts presentation, where Tubi revealed it is doubling-down on content and debuting more than 100 new original titles over the next year. Tubi is cementing its commitment to original content, giving audiences more of what they love, including horror and thrillers throughout the year and during "Terror on Tubi."
As part of THE STREAM, which looks at key trends in consumer streaming behavior, Tubi recently unveiled new research and found that when it comes to choosing what to stream, 59% of U.S. adults look for titles tied to holidays, such as Halloween. Tubi also has the original "Terror Train" (1980) to stream for free in its vast library of more than 40,000 movies and TV shows."
–
Prime Video and Blumhouse Announce Totally Killer: "Today Prime Video and Blumhouse Television announced the upcoming slasher-comedy horror film Totally Killer, from Amazon Studios and Blumhouse. The film is a continuation of the deal forged by the two companies in 2019 and will star Kiernan Shipka (Chilling Adventures of Sabrina, Mad Men), Olivia Holt (Cruel Summer), Julie Bowen (Modern Family, Life of the Party), and Randall Park (Always Be My Maybe, Fresh off the Boat). Nahnatchka Khan (Always Be My Maybe, Young Rock, Don Wong) is directing, and Jen D'Angelo penned the screenplay based on an original script by David Matalon and Sasha Perl-Raver. Principal photography begins today in Vancouver.
The film follows Jamie (Shipka) whose mom, Pam (Bowen) is terrorized by the resurgence of the Sweet Sixteen Killer—a masked maniac that slaughtered a group of teenage girls in the '80s. With the help of her friend Amelia (Kelcey Mawema), she travels back in time to 1987 and teams up with the teen version of her mom (Holt) to try and stop the killer.
The cast of newcomers and established actors portraying characters in the film include Lochlyn Munro ("Adult Blake"), Charlie Gillespie ("Teen Blake"), Stephi Chin-Salvo ("Marisa Song"), Anna Diaz ("Heather Hernandez"), Jeremy Monn-Djasgnar ("Teen Randy Finkle"), Troy Leigh-Anne Johnson ("Teen Lauren"), Ella Choi ("Teen Kara Molnar"), Kelcey Mawema ("Amelia"), Liana Liberato ("Tiffany Clark"), Nathaniel Appiah ("Teen Doug Summers"), and Jonathan Potts ("Adult Chris Dubusage").
The news comes on the heels of the announcement that Prime Video and Blumhouse acquired worldwide rights for the horror-drama and Sundance Grand Jury Prize winner Nanny from first-time feature writer/director Nikyatu Jusu. Additionally, the two companies have released eight films in the past two years as a part of their "Welcome to the Blumhouse" series, including: Bingo Hell, Black as Night, Madres, The Manor, Black Box, Evil Eye, Nocturne, and The Lie.
"The idea of a horror-comedy time travel movie is, I'm gonna be honest, something I never thought of in my life. So when I was approached by the amazing creatives at Blumhouse and Amazon about Totally Killer, it was just so unique and exciting I had to be involved. And then add this incredible cast on top of that? Everybody get readyyyyyyy," said director Nahnatchka Khan.
"We thought this genre mash-up of slasher/comedy with a twist of time travel was just so fun, and Nahnatchka Khan is perfect to direct," said Chris McCumber, president of Blumhouse Television.
"With Nahnatchka's vision and the exciting cast led by Kiernan Shipka and Olivia Holt, we are confident Totally Killer will resonate with our audience around the world," said Julie Rapaport, head of movies at Amazon Studios. "We could not be more thrilled to watch this story come to life and to continue our longstanding collaboration with the incredible team at Blumhouse."
Producers are Jason Blum for Blumhouse and Adam Hendricks and Greg Gilreath for Divide/Conquer. Executive producers are Nahnatchka Khan and Chloe Yellin for Fierce Baby Productions, Chris McCumber and Jeremy Gold for Blumhouse Television, and Brian Parker. "