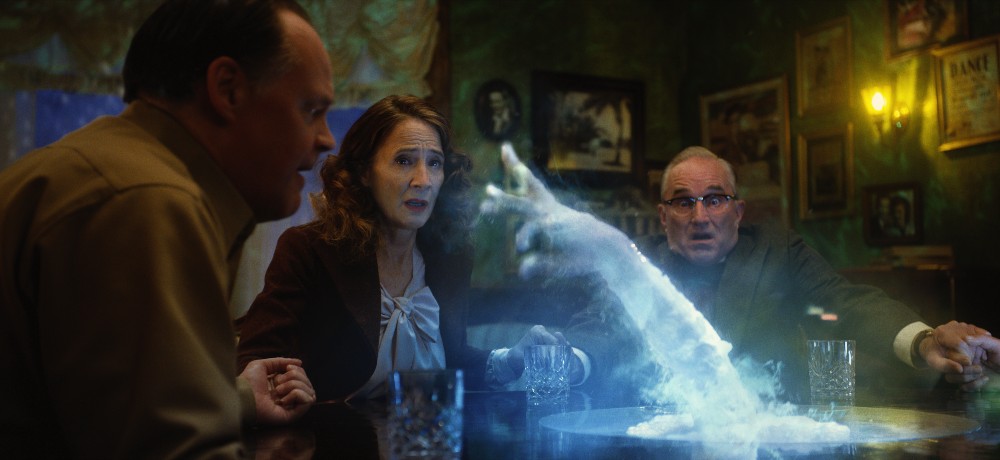 Ted Geoghegan's Brooklyn 45 transports you to a impromptu séance in 1945, where a group of war veterans are haunted by the ghosts of their past. An incredible character piece, with mezmerizing performances, this is a film you won't want to miss and I was fortunate to catch it on the big screen this past March at the Overlook Film Festival. With the film having premiered today on Shudder, I wanted to share details from the post-screening Q&A, where Ted talked about working on the story with his father, creating this fantastic role for Larry Fessenden, and much more!
Origins of the story:
Ted Geoghegan: When we were making We Are Still Here, there's a séance scene in that movie between Larry Fessenden and Andrew Sensenig. Whenever I would come to film festivals, everybody would say, "Oh, that movie was really good, but man, I love that séance." My joke response was always, "Well if you love that séancescene so much, my next movie's just going to be one fucking big séance!" That joke became the seed that got planted and it ultimately turned into [Brooklyn 45]. Even though there's no ticking clock, this movie's set in real time. It's all set over 85 minutes and it's the worst 85 minutes of these people's lives.
The end of World War II is such an interesting period because we think of it as this is a rejuvenative time for America. Everybody came back from the war and there's the photo of the soldier kissing the woman in Times Square. But, in reality, suicides were at an all time high and you have hundreds of thousands of people coming home that were complete shells of who they used to be. There were a lot of people, like the characters in my film, who served in World War I and World War II. They were called Double Veterans.
I started writing this script with that time period in mind. We paint it with rose-colored glasses, but, in truth, it's a really sad and troubled time in our history in 1945 and 1946.
Working with his father: 
Ted Geoghegan: This film, as you may have noticed, is dedicated to my father who's a Staff Sergeant in the Air Force. So I started putting the script together and I reached out to my father and I said, "Dad hey, you served in the military." He was a quadriplegic, who was injured in 1972 and, after he became a quadriplegic, he went back to school and he got a degree in US history.
I wrote the first act of the film and I knew what was going to happen next, but I couldn't figure out how to get there. It was like I knew there was point A, point B, and point C, but I just couldn't figure out how to get between the points. So I sent the script to my dad. It was just the first quarter of the script and I said, "Well, what's wrong with this dad?" He was like, "I'm not creative so all I can tell you is that this guy's a General, but he'd be a Major. You say this guy's a Colonel, but he wouldn't be a Colonel."
He said, "I get that they're all friends, but this guy would never say that to this guy. He would say 'this.'" It's so weird, and it sounds so silly to say it, but as soon as he gave me all that information, all the characters came to life. Suddenly they were all real people and I just spat out the rest of the script. We sent the script back and forth six or seven times and, each time, he'd have other notes.
Then when it was all done, I asked dad, "You want a co-writer credit?" He was like, "Oh Go, no I didn't write any of this. I just helped out." I said, "Okay, well I'll at least give you the special thanks." He said, "Okay, cool. Special Thanks are great!"
He called me one morning in January of 2019 and said, "Hey, I think the script is done, man. We've been working on it for months." He was like, "I cannot wait to watch this movie." I said, "Yeah, I can't wait to watch it either." I hung up and he died. The last conversation I ever had with him was him saying, "I'm so excited to watch this movie." I didn't realize this movie was going to be as personal as it ended up becoming. I also realized, "Okay, I have one shot to make a movie with my dad. One in my whole life and this is it." I was like, "I can't fuck this up."
Waiting for the right time to make the movie:
Ted Geoghegan: I had a lot of people who read the script and they liked it. And they were like, "Yeah, we can give you a tiny amount of money to make it. It's really just five people in a room." And I said, "We could make this movie for $10, but I don't want to make it for $10." So we waited and, after about two years of waiting and seeking, Shudder came on-board and they agreed to make the film with us. They partnered with my producers at Raven Banner, Divide/Conquer, and all the other folks who wanted to get it made, and we shot it during Christmas 2021. With indie movies, you have time or money, but you don't have both. We had time, so we spent a year getting it into shape and we debuted it [SXSW].
Ted's fascination with telling supernatural stories:
Ted Geoghegan: I'm very much like Hawk in the movie. I'm very agnostic. I'd love it if there was something else out there, but I just don't really have any reason to believe there's something else out there. Who knows, maybe that'll change one day, but I like the concept of the supernatural. I don't really believe in it, but I think it's so beautiful and strange. I've always been a really big fan of the old spook show photos of the mediums with ectoplasm hanging out of their mouths and we tried to do our own little take on that.
Working with Larry Fessenden:
Ted Geoghegan: Larry is a really dear friend of mine. I've known him for almost 20 years and he's my drinking buddy. We live three blocks from each other in New York City, so we always bounce ideas off each other and just hang out. I wrote Hawk for him. Larry is a brilliant actor and he doesn't really get those opportunities to really sink his teeth into a really meaty role.
When he read it, he was like, "Are you fucking kidding me?" He's said, "I have a seven-page monologue. Dude, I can't do that." I was like, "You can totally do it." He said, "All right, just let's just keep filming." So his big scene is his giant speech, which is that seven-page monologue. It takes about three minutes of screen time for him to get it all out. We spent a whole day on that and it was really emotionally taxing for Larry to deal with everything, but he's a pro. He's just so good!
He's also such a great director and it's fun to have a director on set with you too. I'd shoot something, and, every once in a while, Larry would come over and say really quietly, "Hey Ted, if you move it a little more this, it'll be really good." I was like, "Okay, well let's do one [take] like that." So I think we got some really interesting ideas and some fun concepts just out of Larry's own brilliant mind as a filmmaker.
Designing the parlor set:
Ted Geoghegan: We had done some concept art with Rich Raaphorst. He made the movie Frankenstein's Army and he was our concept artist for the film. I had a really specific idea what the parlor was going to look like and it was all built in a warehouse. We built the whole thing in about 12 days, which is incredible. It literally was tape on the floor and, 12 days later, we had that apartment.
My idea was that it's the time between Christmas and New Years. This guy has lost his wife at Thanksgiving, and he's obviously not putting Christmas up. But I wanted the movie to feel like Christmas. That's why there's a hint of Christmas lights outside, but you never really get a good look at them. It's the ghost of Christmas lights.
The room itself, the idea was [to have this] hardwood and then the green textured wallpaper. And then Archie's wearing that big brash red jacket. The whole idea was it was supposed to feel like Holly. He's the berries in the middle of this huge swath of green on both sides. Again, I didn't want to go over the top of the Christmas colors, but at the same time I thought, "Let's do a bunch of green and make it feel evergreen and just this one really bold spot of red in the middle."
Knowing that the whole movie was all set in one room, and it's all in real time, I thought, "If people get bored of this room, we're going to lose them, so we've got to make sure the room is interesting." All the photos on the walls are all my friends and family's ancestors, parents, grandparents. My grandfather and namesake, Ted Geoghegan who fought in World War II, his photo is looming over the whole thing. So when I watched the movie, I was just like, "Grandpa's right there." And everybody from my family is in there, so, it was also kind of nice to walk into that room and it weirdly felt like home. We also didn't want the room to ever feel like a place you didn't want to be in. Until you didn't want to be in there…
Ted's approach to a real-time story / film:
Ted Geoghegan: Because there's no [literal] ticking clock, it helped a lot. Typically, with a real-time movie, the whole point is the ticking clock. It's always like, "We've got two hours to defuse the bomb." But that wasn't the idea here. It was just, naturally, in real-time. The script is five scenes: it's the street, the hallway, the parlor, the hallway, the street. As far as filming, it was actually really fun because the actors got to shoot this movie chronologically. So we shot it in order because it made sense to shoot it in order. All of the actors were like, "I've never done this before."
How rare of an opportunity is it to go to set on day one and for it to be the first scene? Then everybody could go home at the end of the night, come back next day and it would be like, "Hi, welcome back! Remember where you were yesterday, mentally? Just be there again."
Ted on his hope that Brooklyn 45 sparks conversation among viewers:
Ted Geoghegan: All of these characters are severely broken. They've all done things that they believe are right and the movie absolutely doesn't tell you if these people are good or bad. I kind of leave that up to the audience. That's a little tip of the hat to my dad, who also never made the call if these people were good or bad. All he ever did was just question the fact that, are we the sum of every decision we make over the course of our whole life? Or, are we the one horrible decision that we make once? Can that define us as a person?
And I tied that into what we're saying about nationalism. I live in New York City and I live above a 24-hour bodega that that's owned by these wonderful dudes from the Middle East. All day long, people come in and give them shit. Everyone feels like they're entitled to say whatever they want now, and back then. I wanted to show in this film that a lot of shit doesn't change. It's 78 years later, and most of this same xenophobia, misogyny, and homophobia are still around and they're still kicking all our asses.
It was neat to be able to work on that with my dad, because those were topics that we never really got to talk about before. Even though I'm a total pacifist, I'm still incredibly grateful for the fact that my father served this country and fought for my freedoms. And his father (my grandfather) did the same. I hope that the film ultimately becomes something that people can have discussions about. Hopefully, it pisses a few people off, it makes a few people really proud, and it makes them want to talk.
—
"December 27, 1945. Five military veterans gather in the ornate parlour of a Brooklyn brownstone. Best friends since childhood, they've reunited to support their troubled host – but when his invitation for cocktails turns into an impromptu séance, the metaphoric ghosts of their past become all-too-literal. Trapped in their host's lounge, the Greatest Generation now finds themselves put to one final test, with their only route to freedom being more bloodshed."
Brooklyn 45 was written and directed by Ted Geoghegan and stars Anne Ramsay, Ron E. Rains, Jeremy Holm, Larry Fessenden, Ezra Buzzington, and Kristina Klebe. It is a co-production between Shudder, Raven Banner, Hangar 18 Media, Divide/Conquer, and The Line Film Company.