History has been made… again. A former President of the United States has been indicted… again. Only this time we're talking about 37 federal charges, serious felonies that could land Donald Trump in prison for decades. (You can read all about the bombshell indictment HERE!)
We've heard Melania Trump was going to stay at the former POTUS' side through the hush money payment charges. While she hasn't outright left him, she also hasn't made public appearances with him or done any TV interviews defending him either. She's just kept to herself in Mar-a-Lago for the most part. We heard she went to dinner with him like one time? Downstairs from her bedroom?? So yeah, we're still waiting to see how tangible her "support" is.
But with a new indictment — as mentioned, a more serious one — the question pops up again. What will Melanie do now?? A source close to the family tells Page Six she'll definitely "stand by her man." In fact, the insider says this is no big deal:
"She is used to this. They are used to dealing with this stuff."
Well, we can see that point actually. Trump has basically been either being sued or under investigation or both since before she met him. In the couple years alone, his charity was shut down for self-dealing, his business was found guilty of fraud, and a civil jury unanimously agreed he had sexually abused a rape accuser. Then there's the hush money stuff. We've heard she was FURIOUS about the Stormy Daniels affair, which allegedly happened when she was at home with their newborn son, having just gone through giving birth. While he was raw-dogging porn stars. Frankly if she didn't leave over that scandal, what does Melania Trump care about the national defense of the United States? We mean, honestly.
Related: Trump Mistress Karen McDougal Reveals Surprising Details Of Extramarital Affair
So yeah, we guess it's not too much of a surprise. Of course, when "stand by your man" just means stay home and stand by, it's not too big an ask, right? Another source told the outlet that's basically the mission:
"Melania is standing by her husband, but quietly and privately. He's been on the phone with Melania, who's supporting him 100 percent. They both knew this — and more — was coming."
"On the phone"? Yes, Trump was reportedly in his Bedminster, New Jersey golf club when news broke of the indictment. So she didn't have to be literally by his side. But another source says she will be soon as she "flew to the East Coast to see her mother" and "will meet up with Donald at Trump Tower, where he has legal meetings." So romantic.
But even that will be short-lived, as another source says though they will travel back to Mar-a-Lago together, "she won't be with him when he surrenders himself to authorities." That is expected to happen on Tuesday. As usual, the rich and powerful don't get arrested like regular people, they get indicted then make an appointment to turn themselves in for arraignment.
One last source on the matter had maybe the most effed up response we've ever seen, just casually saying:
"Melania knows what she signed up for. She is in a wait-and-see position. He'll either be in prison or be President. Or both. It's not a time for fighting within the family."
"He'll either be in prison or be President. Or both." F**k. That's chilling.
In any case, a "wait-and-see position" is not for everyone. If you thought Ivanka Trump had distanced herself with that super political response to the last indictment, you won't believe how much she's invisible this time!
Another source tells the outlet that despite living a hop, skip, and jump away in Miami, the First Daughter "will be staying far away from daddy"! Ouch! LOLz! In case you missed it last time, she said:
"I love my father and I love my country. Today, I am pained for both. I appreciate the voices across the political spectrum expressing support and concern."
That was not taking a side. Pretty transparent, right? This time she's going to give transparent a whole new meaning! Another insider said flat-out:
"Ivanka has disappeared."
Damn!
Well, at least Trump still has his many followers on Truth Social to talk to. He's been ranting about how special counsel Jack Smith is actually "deranged" — which is a great defense that's really reassuring and not at all ridiculous. Why would anyone halfway reasonable want to distance themselves from this guy??
He's also completely abandoned his whole "I had every right" stance in favor of accusing the FBI of planting all the documents. For real. He said about the photos of the boxes full of documents:
"Strange! Everything about the boxes was so neat, orderly, and clean. Did the FBI tip over the one box the way they 'staged' the papers on the floor during the raid of Mar-a-Lago, only to apologize after getting caught?"
Does he think that anyone believe the DOJ was trying to get everyone to think this photo was how they found the documents? What "staged"? They're clearly laid out and labeled as evidence.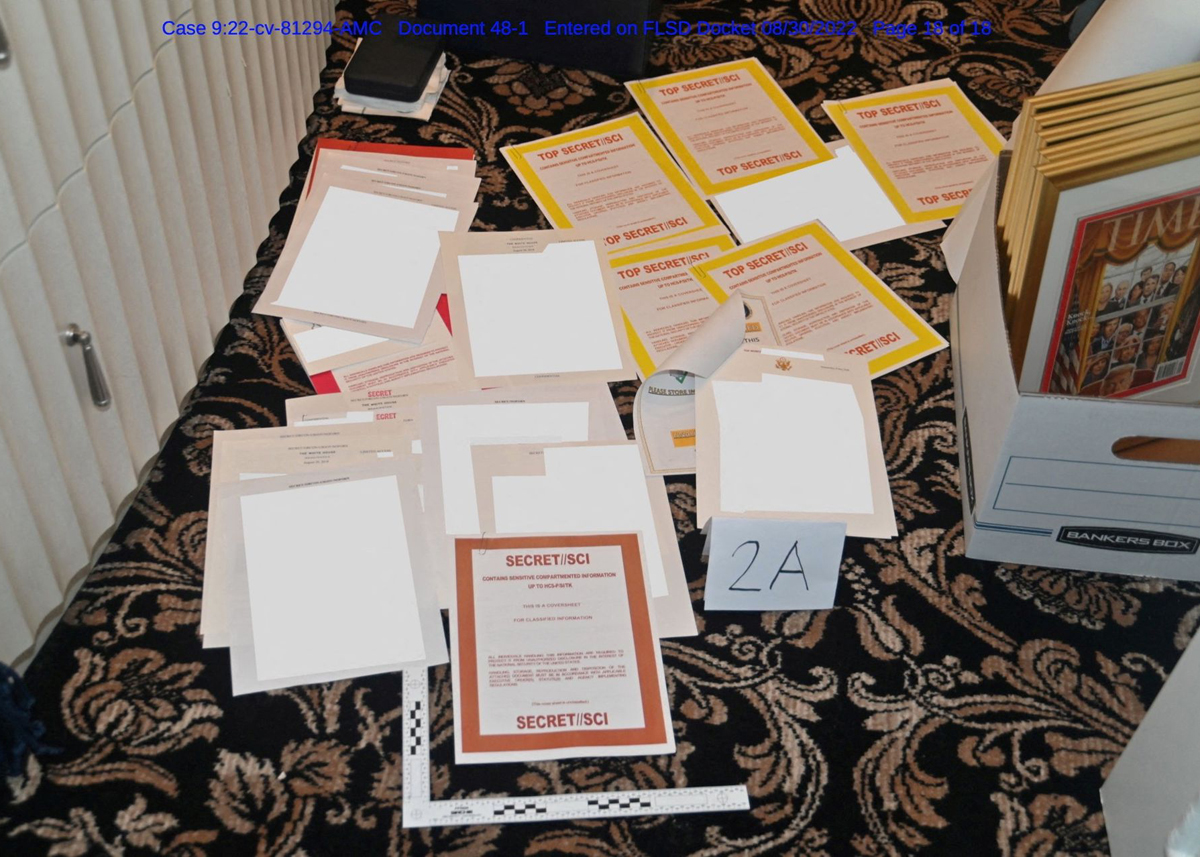 Nothing about this conspiracy theory makes any sense whatsoever. So expect Trump and his toadies to run with it for the next couple months. Yeesh.