If you're a mystery fan, you might be interested in The Watchful Eye on Freeform.

If you love sci-fi, there's The Ark on Syfy from Dean Devlin. Or maybe you need a good drama? Apple TV+ has Dear Edward.

Then again, you could be in the mood to see a worldwide phenonoman own her narrative. If so, then Pamela, A Love Story is for you. Check out all of the shows we recommend you watch this week.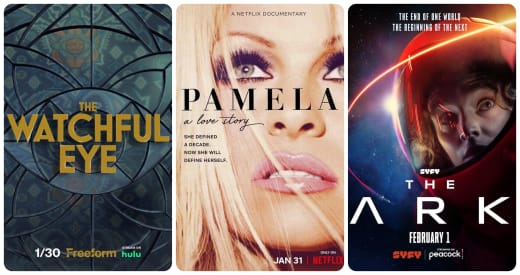 Saturday, January 28

8/7c Hoax: The Kidnapping of Sherri Papini

Are you ready for the wildest story of Missing White Woman Syndrome backfiring in a spectacularly unbelievable way?

This Ripped from the Headlines story explores how a mother of two goes missing in 2016, gaining national attention and having true crime aficionados captivated, only for Sherri's incredible return home after an "abduction" to not be as she recalls.

You'll want to tune in for this one and Jaime King's performance!


Sunday, January 29

9/8c The Way Home (Hallmark)

The new Hallmark series that has us all talking continues when Alice falls in love with the past and has her first kiss.

Back in the present, Kat starts a job at the local paper, and Del deals with bittersweet memories attached to Colton's boat.

The best part will be navigating Del's memories as Alice experiences them firsthand in the past.

9/8c The Last of Us (HBO)

Ellie and Joel make their way to Bill and Frank's, but it's clear they're both struggling following the death of Tess.

We take a trip to the past as we see how Bill deals with the demise of the world and how he meets Frank.

This episode is the strongest episode of the entire season, so be prepared for plenty of action.

9/8c Mayfair Witches (AMC)

Rowan's quest for answers about her mother leads her to some very different people.

The different sides of the family come together for Dierdre's funeral and it's clear from the get-go that family dynamics don't get much more complicated than the Mayfairs.

How will Rowan be able to handle the constant threat of Lasher?


Monday, January 30

Days of Our Lives (Peacock)

You might have forgotten about the Xander kidnapping drama with everything else going on, but don't worry; the writers haven't!

This week, Xander pressures Leo to keep his mouth shut, but there's another problem: Jack threatens to disown Gwen if she doesn't testify against Xander!

Meanwhile, Paulina encourages Chanel to work things out with Allie. Neither of them knows that Alex just sneaked out of Allie's room — but Wendy does! Wendy hated keeping Johnnys secret for months, so will she be willing to keep her mouth shut for his sister this time?

8/7c All American (The CW)

When the Santa Ana winds blow into town, they seem to confirm Billy's theory that they are a bad omen after he faces multiple setbacks. Spencer convinces a reluctant ally to speak their truth, but it doesn't come without consequences.

Jordan finds himself juggling too many secrets and accidentally lets one slip. Olivia throws herself into moving on and comes to an unexpected realization.

Meanwhile, Skye offers to help Patience with her social media, leaving Coop's and Skye's relationship dynamic to change.

9/8c The Watchful Eye (Freeform)

Are you in the mood for mystery?

Freeform's The Watchful Eye might be just what the doctor ordered.

When Elena accepts a live-in nanny job for an affluent Manhattan family, her life is transformed into a world of lies, ulterior motives, and deadly secrets. Ooooh.

9/8c Alert: Missing Persons Unit (FOX)

Sydney is stiill determined to get to the bottom of who Keith really is and takes to following him around in hopes he'll slip up, but what will come of her anonymous call about a body in the lake?

The MPU investigate a puzzling case where a missing social worker ends up taking their life but also leads them to a cold case of a pregnant woman who had been missing for two years.

The personal matters among the team grow more complicated an tense as Nikki juggles leading this unit while butting heads with the men in her life.

10/9c The Good Doctor (ABC)

Well, this will be different!

Now that Lea's pregnancy scare is over, she and Shaun decide to go away together on a trip before the baby arrives. But when they run across a seriously injured dog, Lea insists Shaun treat it. Can his human medicine skills translate to lifesaving surgery for a canine?

And what is Powell going to do that could put her career in jeopardy?

10/9c Quantum Leap (NBC)

Get ready to leap like we've never leaped before! It's like Groundhog Day and Memento had a baby and it's a BOMB!

Quantum Leap returns with Ben caught in a leap that takes him from body to body within a team of military and scientists visiting a nuclear reactor. Someone triggers an explosion, but WHO is it?

Star Trek: Voyager's The Doctor, Robert Picardo, guest stars! Oh boy, this is gonna be awesome!


Tuesday, January 31

Pamela, A Love Story (Netflix)

Pamela Anderson defined a decade. Now she will define herself.

Pamela, A Love Story was already in the works when a TV series based on one of the worst times in her life launched on Hulu.

She didn't watch the series, but the documentary filmmaker caught her reaction to the latest upheaval as the final chapter for his movie, which gives Pamela the voice she's long fought to share.

8/7c Night Court (NBC)

It's been 30 years since we saw the infamous Dan Fielding charm ooze across our screen in the pursuit of short skirts and scanty inhibitions.

That dry streak ends tonight as he ventures back into the waters of dating, and he discovers things have changed completely… and not at all.

It's a hot night in Manhattan, complete with misunderstandings and minestrone! The always-entertaining Wendie Malick guest stars. You are not going to want to miss this encounter!

8/7c The Rookie (ABC)

One thing Nolan and Bailey can do well is find trouble! It's time for another harrowing misadventure with this couple, and it's going to have us on the edge of our seats!

Nolan and Bailey both end up facing fire when a shooter is on the loose, and they're properly motivated to track the person down after nearly falling victim to the person.

Chen and Thorsen team up with Tamara when the woman she works for goes missing, and Wesley finds more trouble when he realizes a judge is getting paid off!

8/7c 9-1-1: Lone Star (FOX)

Did anyone anticipate a love triangle of sorts between T.K., Carlos, and Iris? Because we're still reeling from this marriage news!

T.K. is all out of sorts when he must make a good impression on Iris in hopes of her signing the divorce papers and greenlighting his and Carlos' wedding. Meanwhile, Tommy is all hot under the collar for her pastor and doesn't know how to deal with it.

Owen gets pulled into an undercover operation, to our utter annoyance, and comes face to face with an old friend.

9/8c La Brea (NBC)

La Brea returns in a two-hour midseason premiere as the Harrises and friends return to 10,000 BC to upload the virus and stop the sinkholes, but will James and company stop them?

As new creatures and an unseen murder affect the clearing, Lucas strives to become an effective leader.

The red flowers from Gavin's vision affect many ladies in the clearing. We can't wait to hear more about them.

9/8c The Winchesters (The CW)

Vampires are making their way to Lawrence, and the gang is trying to figure out why.

Meanwhile, after John gets a scary look into his future, Lata and Millie try to help him.

Following her recent feelings for John, Mary finds it hard to balance that and action when it comes to the young soldier.

Their love story is slowly blossoming, but what could this all mean for them?

10/9c Will Trent (ABC)

Will is so confident that he can solve the shooting of a wife of a local football hero that he makes a bet with another cop.

The case becomes complicated when one of the suspects has a crush on Will.

Angie and Michael's homicide case of a local realtor turns darker than expected.


Wednesday, February 1

10/9c The Ark (SYFY)

Dean Devlin (Independence Day, Leverage) comes to Syfy with a new original series called The Ark.

The Ark follows a recolonization mission that wakes up too early from their stasis. With more than a year left to go before reaching their target planet, a lack of life-sustaining supplies, and a loss of leadership, the remaining crew must become the best versions of themselves to stay on course and survive.

The series stars Christie Burke, Richard Fleeshman, Reece Ritchie, Stacey Read, and Ryan Adams.


Thursday, February 2

8/7c Law & Order (NBC)

Price and Maroun take on a corrupt church, but that might be a step too far for McCoy, who wants them to leave the institution alone and focus on the case at hand.

That case has to do with a dead graduate student and a suspect with no clear motive.

But could the money-grabbing scheme at the church be the key to securing a conviction?

9/8c Law & Order: SVU (NBC)

Now that the BX9 drama is over, SVU gets back to what it does best: getting justice for sexual assault victims.

This time, the team works to stop a phony EMT who causes car crashes so he can assault injured victims.

And will the Bronx SVU's supposedly retired Detective Bruno join the Manhattan team? Fin's giving him a tour, so let's hope so!

10/9c Law & Order: Organized Crime (NBC)

The investigation into Murphy seems to be proceeding smoothly, but is it?

While Stabler and Teddy Silas work hard to turn the bar into a trap for the slippery crime boss, Jet may lose sight of the lines between her undercover persona and her real life — will she fall for Seamus?

If that steamy kiss in the promo is any indication, Jet is going to have big problems.

And will Thurman cause problems for Bell before she can get him on board with her investigation? This case has been emotional so far and Murphy is the creepiest villain Stabler's faced since Richard Wheatley. Let's go!

10/9c CSI: Vegas (CBS)

Catherine's day off with her granddaughter gets interrupted by a case.

A woman wakes up from a four-year coma and remembers details from the night her sister died.

It will be good to see Catherine back in the field, even at the expense of her personal life.


Friday, February 3

Dear Edward (Apple TV+)

In the wake of a tragic plane crash, a group of strangers comes together to learn there is life after loss.

From the producers of Parenthood and Friday Night Lights comes a heartbreaking, life-affirming, and uplifting story about survival, resilience, connection, and the examination of that which makes us human.

Based on a best-selling novel, Dear Edward stars Connie Britton and Taylor Schilling.

Shrinking (Apple TV+)

8/7c S.W.A.T. (CBS)

20-Squad is back after a brief break, and they are dealing with a lot.

The team races to stop a gunman targeting rehab centers and those he thinks are responsible for his brother's death.

Meanwhile, Annie makes a decision regarding Lila without Deacon's knowledge, and it has some unexpected consequences.

10/9c Blue Bloods (CBS)

Blue Bloods has only been on hiatus one week, but it feels like way too long since we've spent time with the Reagans. The newest episode promises the perfect blend of family and crime drama we've come to expect.

Danny's childhood friend went bad in the past, but now he claims to be on the up-and-up. But is he secretly involved in his fiancee's disappearance?

Meanwhile, Anthony has a special surprise for Erin: one last stakeout before she jumps full-time into politics.

And finally, Jamie tries to help a former cop who is doing the wrong thing for the right reason, while Frank comes face-to-face with a woman who confesses to murder!
Carissa Pavlica is the managing editor and a staff writer and critic for TV Fanatic. She's a member of the Critic's Choice Association, enjoys mentoring writers, conversing with cats, and passionately discussing the nuances of television and film with anyone who will listen. Follow her on Twitter and email her here at TV Fanatic.