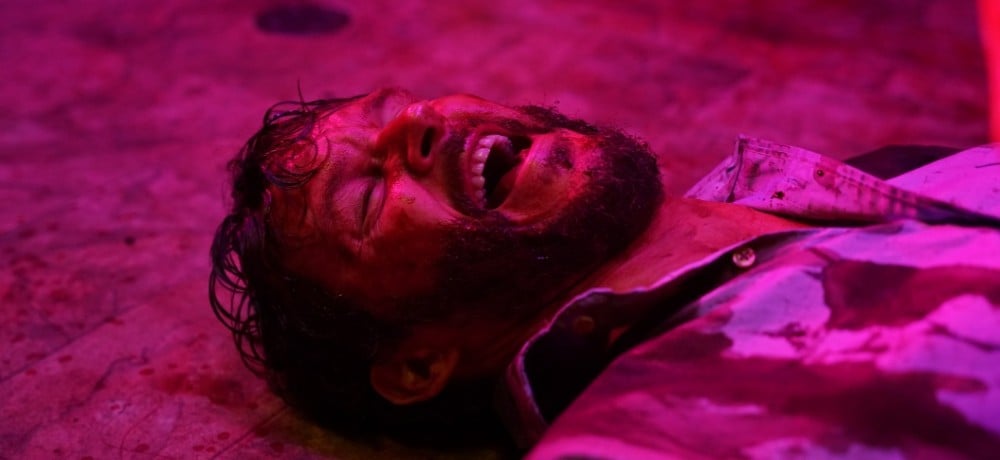 SHUDDER ACQUIRES OFFICIAL FANTASIA FESTIVAL SELECTION GLORIOUS: "Shudder, AMC Network's premium streaming service for horror, thriller and the supernatural, has acquired rights to Rebekah McKendry's Glorious starring Ryan Kwanten (True Blood, Kindred) and Oscar-winner J.K. Simmons (Whiplash, Being the Ricardos). The film, an official selection of the Fantasia International Film Festival, will be available exclusively on Shudder in the US, Canada, the United Kingdom, Ireland, Australia and New Zealand on Thursday, August 18.
Said Craig Engler, general manager of Shudder, "With Glorious, Rebekah brings Lovecraftian horror to a place it's never been seen before: a rest stop men's room. She and her all-star cast have created an inventive and original cosmic horror that manages to be both darkly hilarious and profoundly personal."
"For years, I had been searching for a project that would let me show my preferred artistic style – that would let me be absurdist, sardonic, transgressive, and weird. And Glorious gets really f'n weird." added director Rebekah McKendry. "As a diehard horror fan, I'm thrilled Glorious has found a home at Shudder, and I know Shudder fans will find something unique, wild, and thought-provoking lurking inside our rural rest stop bathroom."
In Glorious, Kwanten plays a young man who is spiraling out of control after a bad breakup. His situation worsens after he finds himself locked inside a rest stop bathroom with a mysterious figure (Simmons) speaking to him from an adjacent stall. As he tries to escape, he realizes he is an unwilling player in a situation bigger and more terrible than he could have imagined.
This film is written by Todd Rigney, Joshua Hull and David Ian McKendry.  AMP International's Bob Portal and Inderpal Singh serve as producers along with Joe Wicker and Morgan Peter Brown from Fallback Plan Productions, Jason Scott Goldberg and Christian Armogida.
Glorious is an AMP/Fallback Plan production, in association with Mississippi-based Eyevox Entertainment, with Rick Moore from Eyevox serving as executive producer, alongside James Norrie and Nina Kolokouri at AMP.  Kwanten, Barbara Crampton, Mark Cartier, Gaba Gavi and Kevin Kale also serve as executive producers, with Jessica Taylor as an associate producer.
The deal was negotiated by AMP International's James Norrie and Nina Kolokouri on behalf of the filmmakers, and Emily Gotto, VP, Global Acquisitions & Co-Productions on behalf of Shudder."
—
First Kill: "When it's time for teenage vampire Juliette (Sarah Catherine Hook) to make her first kill so she can take her place among a powerful vampire family, she sets her sights on a new girl in town named Calliope (Imani Lewis). But much to Juliette's surprise, Calliope is a vampire hunter from a family of celebrated slayers. Both find that the other won't be so easy to kill and, unfortunately, way too easy to fall for.
Felicia D. Henderson (THE PUNISHER, EMPIRE, GOSSIP GIRL, SOUL FOOD) serves as showrunner, executive producer, and writer of FIRST KILL, which is based on the short story by New York Times best-selling author Victoria "V. E." Schwab, who is also a writer and executive producer for the series. Emma Roberts and Karah Preiss serve as executive producers through Belletrist Productions. FIRST KILL also stars Elizabeth Mitchell, Aubin Wise, Gracie Dzienny, Dominic Goodman, Phillip Mullings, Jr., and Jason R. Moore."
Series Launch Date: June 10, 2022
Showrunner / Writer / Executive Producer: Felicia D. Henderson
Creator / Heard Writer / Executive Producer: Victoria "V. E." Schwab
Executive Producers: Emma Roberts and Karah Preiss for Belletrist Productions, and Jet Wilkinson
Starring: Sarah Catherine Hook (Juliette Fairmont), Imani Lewis (Calliope Burns), Elizabeth Mitchell (Margot Fairmont), Aubin Wise (Talia Burns), Gracie Dzienny (Elinor Fairmont), Dominic Goodman (Apollo Burns), Phillip Mullings, Jr. (Theo Burns), Jason R. Moore (Jack Burns)
Guest starring: Will Swenson (Sebastian Fairmont), Jonas Dylan Allen (Ben Wheeler), Dylan McNamara (Oliver Fairmont), MK xyz (Tess)
—
HALLOWEEN GIRL Volume 2: "'Death is a lot of damned work', thinks 18-year-old ghost, Charlotte Williams, as she braves the unsettled world of the In-Between. It's here that Charlotte finds the clues she desperately needs in her battle against diabolic, secret society, The Hollow (who took her life, and just happen to be trying to end the world!).
Returning to the 'Bone Yard' (aka Crystal Springs Cemetery), Charlotte meets up with her supernatural gal pal Poe, an acerbic goth who works with her to decipher the latest clues. Following a series of confrontations that continue to escalate the danger, Charlotte's world is further rocked when The Hollow kidnap her young son, Luke. To get him back, Charlotte and Poe are forced to separate and confront their own dark pasts  – and maybe, just maybe, save the world.
Following the events of Vol 1, Charlotte awakens to find herself inside a giant spider's web inside one of the Hollow's subterranean prisons. Or is she really? The Hollow have a knack for zeroing in on a prisoner's nightmares, breaking their spirit – and then harvesting their souls. Can Charlotte break free in time to save herself and the other prisoners – from a fate worse than death?"
Halloween Girl Volume 2 is now available! To learn more, visit: https://www.rtwfilms.com/halloween-girl.html