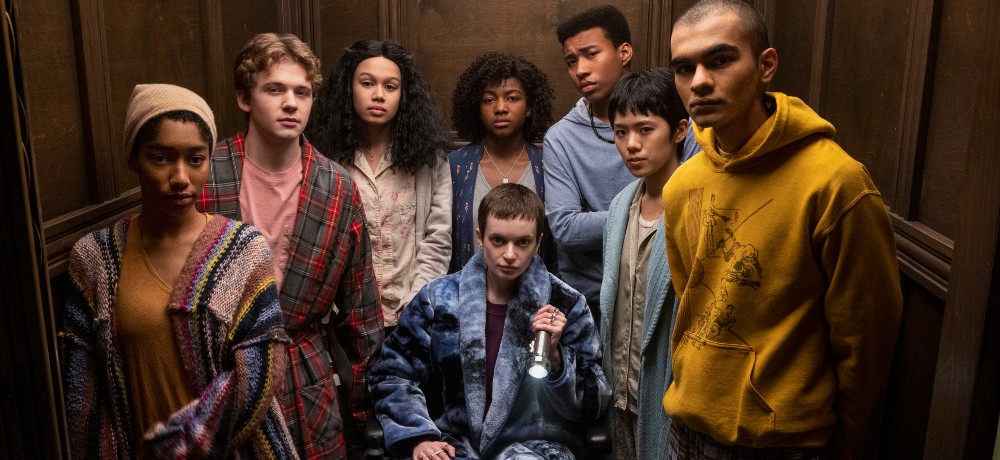 First Photos from THE MIDNIGHT CLUB: "At a hospice with a mysterious history, the eight members of the Midnight Club meet each night at midnight to tell sinister stories – and to look for signs of the supernatural from the beyond. A new horror series from Mike Flanagan and Trevor Macy's Intrepid Pictures (The Haunting of Hill House, Midnight Mass) and Leah Fong, based on the creative work of bestselling author Christopher Pike."
RELEASE DATE. October 7, 2022
EPISODES. 10 episodes x 1 hour
BASED ON THE WORK OF Christopher Pike
SERIES CREATED BY Mike Flanagan and Leah Fong
EXECUTIVE PRODUCERS. Mike Flanagan, Trevor Macy, Leah Fong, Julia Bicknell, Christopher Pike
STARS. Iman Benson, Igby Rigney, Ruth Codd, Annarah Cymone, Chris Sumpter, Adia, Aya Furukawa, Sauriyan Sapkota, Matt Biedel, Samantha Sloyan, with Zach Gilford and Heather Langenkamp
BASED ON. The series is based on the iconic works of Christopher Pike.
—
Lisa Ovies & Raimi Productions Team Up For EmpowHer Female Film Program: "If you're a female filmmaker looking to get into an exciting new film program, this news is for you.
If you're a female filmmaker looking for an awesome online filmmaking program, Puppet Killer director Lisa Ovies and the good folks at Raimi Productions (particularly Evil Dead mastermind Sam Raimi and Raimi Productions president Zainab Azizi, producer of the recent Umma) have some good news to share!
According to the press release we just received, Raimi Productions are sponsoring a full scholarship to Rogue Studios' EmpowHer Female Filmmaking program, an eight-week online course covering everything you might need to know about getting your film off the ground, from pre-production to casting, script writing to cinematography, to editing and even a how-to on navigating the film festival experience.
Ovies launched the program earlier this Spring after years of traveling the film festival circuit and attending numerous pitch meetings. During that time, she noted a pronounced lack of female representation behind the camera and decided to get proactive about it.
Says Ovies:
"I was often one of, if not the only, female director or writer in a space, specifically in the genre world. And yet when I met women, they would constantly be telling me how much they would love to get behind the camera and tell stories. I started to realize pretty quick that the lack of representation wasn't at all reflective of the desire and that most women were hesitant to start because they either didn't have spaces they felt safe in to start asking the questions and learning the skills outside of committing to a full-time program, or they lacked personal role models telling them they could do it."
Raimi Productions (whose aforementioned Umma was a seriously freaky delight; you can read our exclusive interview with the film's director, Iris K. Shim, here) will be sponsoring a full scholarship to the program, and you won't be surprised to learn that she's a big fan of both Raimi and Azizi, the latter of whom played a key role in making this connection happen:
"Zainab is amazing and beyond inspiring. Having worked from the mailroom up to becoming president of a company working with one of the top genre directors in the world, all while being so incredibly kind and supportive of women and such a strong champion for diverse storytelling and representation. I am beyond honored to have her as a part of this program and I know our students are going to get so much out of their time with her."
As for Raimi, Ovies adds:
"As a person who was so strongly influenced by Sam Raimi as a young filmmaker, the connection to Raimi Productions and my school truly feels like a dream. I can't wait to see what stories the next wave of female filmmakers will tell and the slow balance of representation on screen that will start as a direct result of more women and minorities making film."
If you're interested to learn more, head on over to the homepage for Rogue Studios and Lisa Ovies' EmpowHer Female Filmmaking series here."
—
RLJE FILMS NABS "OLD MAN" TO RELEASE IN THEATERS, ON DEMAND AND DIGITAL OCTOBER 14: "RLJE Films, a business unit of AMC Networks, has acquired the thriller OLD MAN from director Lucky McKee (May, All Cheerleaders Die). The screenwriting debut of Joel Veach, the film stars Stephen Lang (Avatar franchise, VFW), Marc Senter (Starry Eyes), with Liana Wright-Mark (Ocean's 8), and Patch Darragh ("Succession"). The film will be in released In Theaters, on Demand and Digital October 14, 2022.
"We're excited to work with Lucky McKee, Stephen Lang and the film's producing team on another project that is certain to thrill audiences," said Mark Ward, Chief Acquisitions Officer of RLJE Films. "The incredibly talented team behind this film has entertained genre film enthusiasts over the years and OLD MAN is no exception."
In OLD MAN, when a lost hiker stumbles upon an erratic old man living in the woods, he could never have imagined the nightmare that awaits.
OLD MAN was produced by Aaron B. Koontz (The Pale Door), Cameron Burns (Scare Package) and Ashleigh Snead (The Block Island Sound) on behalf of their production outlet, Paper Street Pictures. Marc Senter (Brawler) is also producing.
Ward and Betsy Rodgers from RLJE Films negotiated the deal with XYZ Films on behalf of the filmmakers."
—
Watch the Trailer for BLANK: "Struggling author, Claire Rivers signs up for a fully A.I. operated retreat to help her writer's block, but when an unforeseen software glitch occurs, she gets trapped inside her unit with a malfunctioning android, a degenerating host and no communication with the outside world. As time is running out, food supplies getting desperately low and the android becoming increasingly unstable, Claire must overcome her fears and find a way to outsmart the technology in order to make it out of the retreat alive."
Directed by: Natalie Kennedy
Written by: Stephen Herman
Cast: Rachel Shelley, Heida Reed, Wayne Brady, Rebecca-Clare Evans, and Annie Cusselle
Produced by: Rebecca-Clare Evans
Executive Producers: Lyndon Baldock, Marcia Do Vales, Paul Sandhu, Mark Sandell