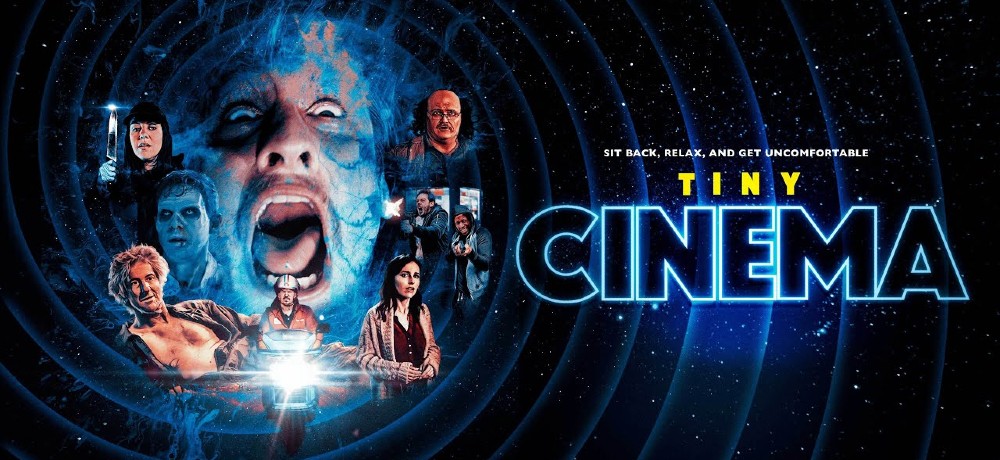 TINY CINEMA: "From the makers of BUTT BOY, TINY CINEMA is a twisted tale of seemingly unconnected strangers whose lives will change in incredible and bizarre ways forever. As reality unravels, each person must battle incredible challenges from a multiverse seeking answers on the essential questions of life, death, love, and the fate of our future.
TINY CINEMA will celebrate its World Premiere at Popcorn Frights Film Festival (August 11-14) and its UK Premiere at FrightFest (August 28-29)."
—
STRANDED WORLD: "Concept Media is announcing the world premiere and  nominations of its newest Bigfoot movie, Stranded. 
Synopsis: After the passing of their mother, a group of siblings drive across state to spread her  ashes. They become stranded when their car breaks down on a country road in the woods.  Unknown to them, a very tall and hairy creature has stumbled upon their car and they have to  overcome their family trauma and work together if they want to survive the night. 
The movie is co-written by Shawn Burkett and Cheyenne Gordon. Burkett directs. 
Concept Media is proud to announce that Stranded will have its world premiere at  HorrorHound Weekend in Cincinnati, OH on Friday, September 9, 2022. 
"Monsters and Cryptids are something I'm very passionate about. This film has a lot of time,  effort and love that went into making it. And I totally cried when these nominations came in! It's  an amazing feeling and I'm crazy thankful for the nominations and the world premiere" – Shawn  Burkett 
In addition to the premiere, the movie has a slew of nominations in the festival: 

Best Feature 
Best Director 
Best Writing 
Best Lead Performance – Dale Miller Best Supporting Performance – Scott  Gillespie 
Best Cinematography Best Editing 
Best Sound 
Best Special Effects Judges Choice 

"I was blown away by all the nominations! We are truly humbled that people think so highly of  our little movie and we are thrilled for folks to see our love of the genre!" – Chris Gierowski,  Producer 
The movie stars Dale Miller, Brittany Blanton, Scott Gillespie, Mike Pleska, Peyton Pleska,  Tamara Glynn, and Rob Collins. 
Stranded will be distributed by Wild Eye Releasing TBA next year. It was part of a multi-picture  deal with Concept media that included Animal Inside (Available 9/13/22), What Happens in the  Woods: The Story of Don't F*** in the Woods documentary (TBA), and the highly anticipated  sequel Don't F*** in the Woods 2 (Available 10/11/2022)."
—
SATURNALIA Official Gameplay Trailer: "Saturnalia [http://www.saturnaliagame.com/] is a fever dream inspired in equal parts by authentic Sardinian culture and classic Italian giallo horror films. The narrative revolves around a mysterious, centuries-old ritual that occurs every year on the night of the winter solstice, as each of the game's four playable characters must utilize their unique abilities and confront their own painful memories in order to expose the secrets haunting the town and ultimately escape Gravoi. Coming 2022!"
'American Horror Story' Cameron Cowperthwaite Joins 'Southern Gothic' Film And 'American Horror Stories' Series: "Known most for his work in the series 'American Horror Story' and the horror-thriller film 'Pledge,' Cameron Cowperthwaite has joined the cast of writer-director Tom Schulman's indie drama 'Southern Gothic.' The cast includes Lili Simmons, Kim Coates, Igby Rigney, Tom Bower, and Justin Marcel McManus. Cowperthwaite plays the supporting role of Douche, a hot shot who ran tables during high-stakes Keno matches.
About 'Southern Gothic': In a world of illegal, high-stakes keno gambling, Nick (Kim Coates) owns a run-down plantation house. He is enamored with the smart, tough, and charming Keno ace Diana's (Lili Simmons) intent to win big and is determined to stake her.
Cowperthwaite has also joined the FX show 'American Horror Stories,' a Ryan Murphy spinoff anthology series, with the second installment premiering through Hulu on July 21, 2022.
In addition to his role of Speed Wagon in American Horror Story, Cowperthwaite also worked on television shows Station 19, Shameless, NCIS, Animal Kingdom, and Criminal Minds: Beyond Borders. In film, he is most known for his role of Ricky in 'Pledge,' a popular frat house college horror-thriller produced by Stag Pictures and distributed by IFC Midnight; starring Cowperthwaite with Zachery Byrd, Aaron Dalla Villa, Zachary Weiner, Phillip Andre Botello, Jesse Pimentel, Joe Gallagher, Jean-Louis Droulers, and Erica Boozer.
Cowperthwaite is represented by theatrical talent agent Ro Diamond of SDB Partners, manager Joshua Pasch of Authentic Talent and Literary Management, and commercial agent Rick Ferrari of Ferrari Talent, with publicity by Wendy Shepherd of Studio Matrix."