Khloé Kardashian is making light of a bad situation.
The mother of two took to Instagram Friday to show off her growing son, whose name may be Tatum Robert Thompson, according to the US Sun. But somehow, neither the baby boy NOR the Good American founder were the standouts of the post… that title instead belongs to her t-shirt. 
If you look closely, the 38-year-old boldly sported a cropped white shirt with an image of her big sis Kim Kardashian's face printed on it from her infamous Variety interview, in which the SKIMS founder gave what she thought at the time was "the best advice for women in business." And Khloé didn't forget to have it included in the print:
"Get your f**king ass up and work"
Damn! Khlo$ is out!
As you'll recall, Kim was met with a HUGE wave of backlash after making that statement, with many social media users calling out the absurdity of a billionaire giving such harsh advice.
Related: Inside Kim's Dating Life!
Khloé captioned the upload, "In my best Kim K voice!" Ha! See (below):
She also showed another look at it on her Story, where she proudly showed off the tee by strutting up to a mirror: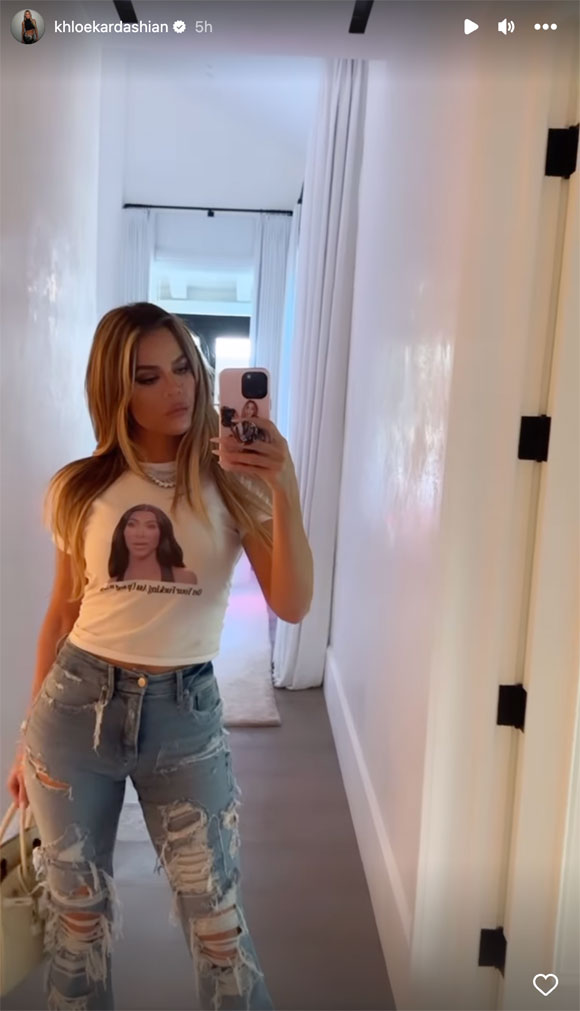 Fans were mixed in the comments, with some complimenting the fashion statement, calling it the "best shirt ever," while others pleaded for the celebrity sisters to "remain humble" as they've had "a bit of a head start." Others, though, just took a moment to share some love for Tate — and his momma's ultra stylish jeans!
Oh, Khloé. If anyone from the KarJenner clan was daring enough to make such a move, it would be her. Watch the full interview (below):
What do YOU think of the garment, Perezcious readers? Is it too soon to joke? Or do you kinda love owning it? Did it make you crack a smile? Let us know all your thoughts in the comments down below!