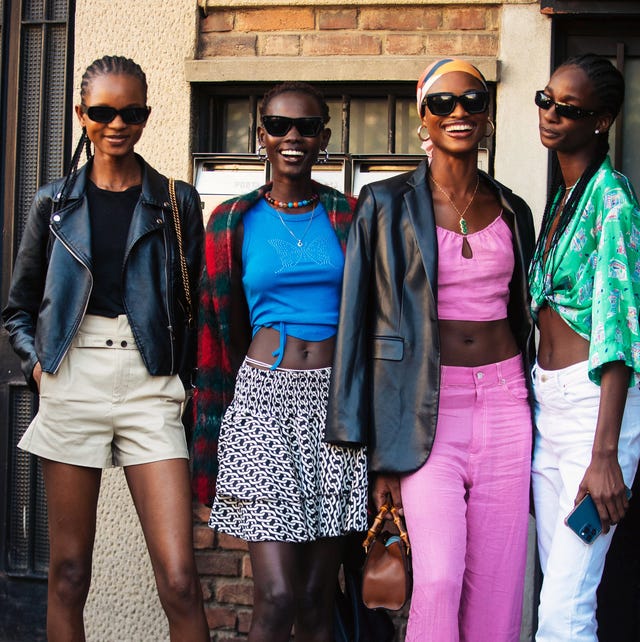 Getty Images
A good pair of black sunglasses are as essential to your wardrobe as blue jeans and a white T-shirt.
While they may seem like a simple item to shop for at first, the pages and pages of available options can quickly become daunting. Trust me, I've been there. So, in an effort to make your search easier, we've compiled a list of the best black sunglasses for women. Everything from cat eyes to aviators to wraparound shades have become of-the-moment styles, so there's bound to be a pair for you.
Scroll on to see our edit of the best black sunglasses in every shape, style, and price point.
Advertisement – Continue Reading Below
The Classic Pair
Ray-Ban
Original Wayfarer Classic
| | |
| --- | --- |
| Color | 9 options |
| Material | Acetate |
The Understated Pair
Gentle Monster
Reny 01
| | |
| --- | --- |
| Color | Black, Red, Gray, and Green |
| Material | Acetate |
The Trendy Pair
Free People
Royal Polarized Aviator Sunglasses
| | |
| --- | --- |
| Color | 10 options |
| Material | Base metal, plastic |
The Rectangular Pair
I-SEA
Neo Rectangle Sunglasses
| | |
| --- | --- |
| Color | Black |
| Material | Plastic |
The Funky Pair
Lexxola
Lulu
| | |
| --- | --- |
| Color | Black, Pink, and Orange |
| Material | Bio Acetate |
The Aviators
Quay Australia
High Key
| | |
| --- | --- |
| Color | 10 options |
| Material | Metal |
The 90s Pair
Le Specs
Outta Love
| | |
| --- | --- |
| Color | 12 options |
| Material | Polycarbonate Plastic |
The Colorful Pair
Crap Eyewear
The Groove Pilot
| | |
| --- | --- |
| Color | Black, Gold, and Tortoise |
| Material | Stainless Steel |
The Budget Friendly Pair
A New Day
Plastic Angular Square Sunglasses
| | |
| --- | --- |
| Color | Black |
| Material | Plastic |
The Lightweight Pair
SOJOS
Small Square Polarized Sunglasses
| | |
| --- | --- |
| Color | 11 options |
| Material | Metal |
The Circle Pair
H&M
Polarized Sunglasses
| | |
| --- | --- |
| Color | Black |
| Material | 65% Polycarbonate, 30% Triacetate, and 5% Metal |
The Designer Statement Pair
Gucci
Black Oval Sunglasses
| | |
| --- | --- |
| Color | Black |
| Material | Acetate |
The Luxury Pair
Oliver Peoples
Fai
| | |
| --- | --- |
| Color | 5 options |
| Material | Acetate |
The Sporty Pair
Oakley
Eye Jacket™ Redux
| | |
| --- | --- |
| Color | Black, White, Silver, and Planet |
| Material | O Matter |
The Wraparound Pair
Bonnie Clyde
Best Friend
| | |
| --- | --- |
| Color | Black, Cream, and Brown |
| Material | Nylon |
The "No Photos Please" Pair
Aire
Haedus Sunglasses
| | |
| --- | --- |
| Color | Black |
| Material | Plastic |
The Cat Eye Pair
AIRE x REVOLVE
Dualism
| | |
| --- | --- |
| Color | Black |
| Material | Plastic |
The Cool Pair
Chimi
05 Black
| | |
| --- | --- |
| Color | 9 options |
| Material | Acetate |
The 60s Pair
A Better Feeling
Dune Sunglasses
| | |
| --- | --- |
| Color | Black |
| Material | Acetate |
Advertisement – Continue Reading Below